Road Closures Due to El Portal Fire

The Big Oak Flat Road between Crane Flat and the El Portal Road is temporarily closed. There is no access to Yosemite Valley via the Big Oak Flat Road or Highway 120. Tioga Road is open and accessible via Big Oak Flat and Tioga Pass Entrances. More »
Campground Closures Due to Fire

Crane Flat, Bridalveil Creek, and Yosemite Creek Campgrounds are temporarily closed. More »
Yosemite National Park is Open

Yosemite Valley, Glacier Point, and Wawona/Mariposa Grove areas are open and accessible via Highways 140 and 41. Tioga Road is not accessible via Highways 140 and 41 due to a fire.
The Real Return of Yosemite Falls
Yosemite Falls may have been flowing by Thanksgiving, but it's not really back until the roar of water announces the return. Strong rainstorms over the past week have brought more than six inches of rain to the lower elevations of Yosemite, making even the smallest drainages fill with the water that flows and tumbles down the Valley walls. The drastic change that Yosemite Falls has undergone in less than one month is amazing, captured in these photographs taken over the past four weeks.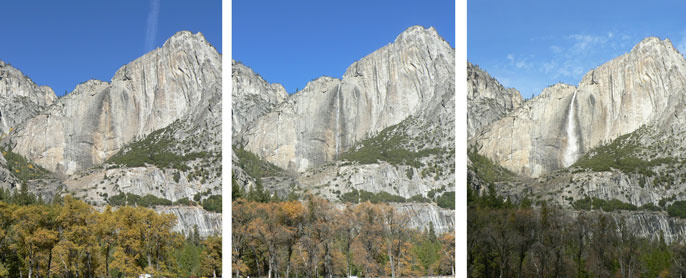 Yosemite Falls through the month of November.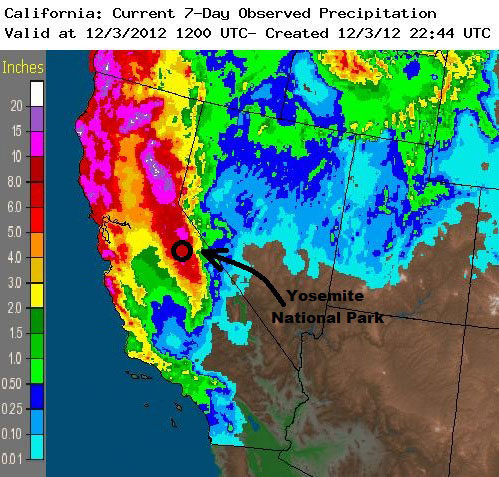 California precipitation totals for the past week.
Yosemite Valley, BW, Water-Rock-Wind
Post A Comment
Did You Know?
In Yosemite Valley, dropping over 594-foot Nevada Fall and then 317-foot Vernal Fall, the Merced River creates what is known as the "Giant Staircase." Such exemplary stair-step river morphology is characterized by a large variability in river movement and flow, from quiet pools to the dramatic drops of the waterfalls themselves.