Tioga Road is Closed

The Tioga Road (Highway 120 through the park) is closed due to snow; there is no estimated opening date, although it usually opens sometime in May. More »
Rain and snow is forecast Friday and Saturday

The Glacier Point Road is closed and will be reevaluated on Sunday. Tire chains may be required; bring and be prepared to use them if visiting this weekend. Check current road conditions by calling 209/372-0200 (then dial 1 then 1).
Roadside Naturalist: "Speeding Kills Bears" Signs
"Speeding Kills Bears" signs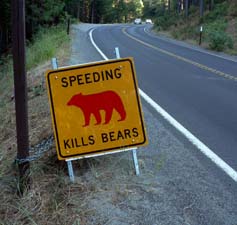 There are seventeen "Speeding Kills Bears" signs along park roads this week, including two between the Big Oak Flat Entrance and Crane Flat. Each year, these signs get placed along roadways where a bear has been hit by a car. They serve as obvious reminders that there is a high frequency of vehicle-animal collisions in Yosemite. July, August, and September are the peak months for bear-vehicle collisions. Please obey speed limits and scan roadsides while driving to ensure the safety of bears and other wildlife.

Post A Comment
Did You Know?
Black bears in Yosemite are active both day and night. Most bears that rely on natural food sources are active during the day. However, those that get food from people are often active at night, when they can quietly sneak around and grab unattended food. More...