Tioga Road is Closed

The Tioga Road (Highway 120 through the park) is closed due to snow; there is no estimated opening date, although it usually opens sometime in May. More »
Rain and snow is forecast Friday and Saturday

The Glacier Point Road is closed and will be reevaluated on Sunday. Tire chains may be required; bring and be prepared to use them if visiting this weekend. Check current road conditions by calling 209/372-0200 (then dial 1 then 1).
Rescue From Near Snake Dike (Half Dome)
On Monday, August 27, 2012, the Yosemite Emergency Communications Center received a 911 call from two climbers (one male and one female) who had had fallen on what they had believed to be the first pitch of Snake Dike, a climbing route on the Southwest Face of Half Dome. In fact, the climbers were approximately one quarter of a mile east of the Snake Dike route.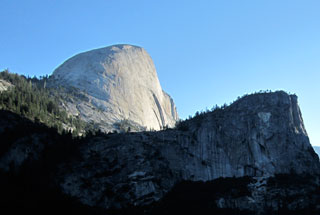 Southwest Face of Half Dome, including both Snake Dike and the route taken by the climbers. NPS Photo by Mark Marschall
The two climbers later recounted that they had no prior climbing experience in Yosemite, and had selected the Snake Dike route because of its relatively easy grade (5.7 R) for a multi-pitch climb. Their journey began on Sunday, August 26, when they hiked to the backcountry campground at Little Yosemite Valley. At 6 a.m. on Monday, the pair set off from Little Yosemite Valley. Although they had a topographic map of the Snake Dike climbing route, they did not have directions for approaching the base of the route, so they followed cairns (piles of rocks used to mark an informal trail). When they reached the base of the Southwest Face of Half Dome, they looked around for features on the face that matched their topo. They found something that resembled what they saw on their topo, and, on a small ledge perched above several hundred vertical feet of fourth and fifth class granite terraces, prepared to start climbing. Because they were not certain they had found the Snake Dike route, they came up with a retreat plan if the lead climber (the male climber), belayed by his partner on the ledge below, were to decide they had selected the wrong route.
For reasons unexplained, the climbers did not place any anchor gear for the climber who was belaying. The lead climber started up the route, climbing 40 feet of easy (5.5) slab with no protection up to a shallow roof (small piece of granite jutting out from the face). Under the roof he placed a piece of protective gear (#.3 cam). He then tried to turn (move past) the roof and fell. The piece of protection held. He tried again and fell, and again the piece held. He tried a third time and fell; this time his one piece of protection pulled out. He fell down to the belay ledge, struck the ledge next to his climbing partner, and fell 40 feet farther until the rope became taut, pulling the belayer off her belay ledge. They both came to rest 50 feet below the belay ledge, on the next major ledge.
Although injured, the pair of climbers started hiking down the slabs in an attempt to self-rescue.  They encountered another climbing party who had cell phones. Feeling that they were unable to continue their descent, the injured climbers borrowed a cell phone and called 911. The injuries sustained by the belayer sounded significant, so two medics from the Helicopter Rescue Team (HRT) prepared for an immediate rescue. The park helicopter transported the two HRT members by short-haul to the subjects' location. After assessing the injured belayer, the rescuers prepared her for a short-haul in a litter to Ahwahnee Meadow, where she was then transferred to an awaiting medical evacuation helicopter. She was flown to a trauma center in the Central Valley; her injuries included a pneumothorax (punctured lung), a fractured pelvis, and two fractured vertebra. The lead climber was also short-hauled to Ahwahnee Meadow; however, his injuries did not necessitate a litter.  He was transported by a park ambulance to the Yosemite Medical Clinic. 
In light of this incident, please keep in mind:
When preparing for a climb, research not just the intended climbing route, but also the approach to the route. Bring a map that shows the area of the approach.
While climbing, especially on an unfamiliar route, referencing a topo can reduce your chances of getting off route.
Ensure that you place adequate protection while lead climbing and build an anchor for the belayer when appropriate.

Post A Comment
Did You Know?

Yosemite Falls is fed mostly by snowmelt. Peak flow usually happens in late May, but by August, Yosemite Falls is often dry. It begins flowing again a few months later, after winter snows arrive.