Tioga & Glacier Point Roads Closed for the Winter

The Tioga Road (Highway 120 through the park) and Glacier Point Road are closed due to snow; they usually reopen late May or June. You can check on current road conditions by calling 209/372-0200 (press 1 then 1). More »
Orange Peels in the Forest?
Hiking along a trail in the White Wolf area, to my surprise I saw an orange peel on the forest floor! Did someone litter? No, it wasn't the discarded shell from a delicious fruit we know well, but a cup-shaped fungus growing upward from the ground.
Orange peel fungus (Aleuria aurantia) usually grows in clusters on the ground, often in wooded areas near rotting trees and dead matter. They can be easy to miss, generally ranging in size from 1 to 2.5 inches (3-6 cm), but can reach up to 4 inches (10 cm) in diameter. They are found throughout North America, and are common during summer and fall. This fungus is a decomposer of dead organic material, returning nutrients such as hydrogen, carbon, and nitrogen back into the soil to be used by other plants.
The forest floor is "littered" with a variety of mushrooms/fungus, colorful gems dotting the ground, helping to recycle nutrients. So while out hiking, be sure to Leave No Trace, and pack out all of what you packed in, and let it be that the only orange peels in the forest will be of the fungus variety.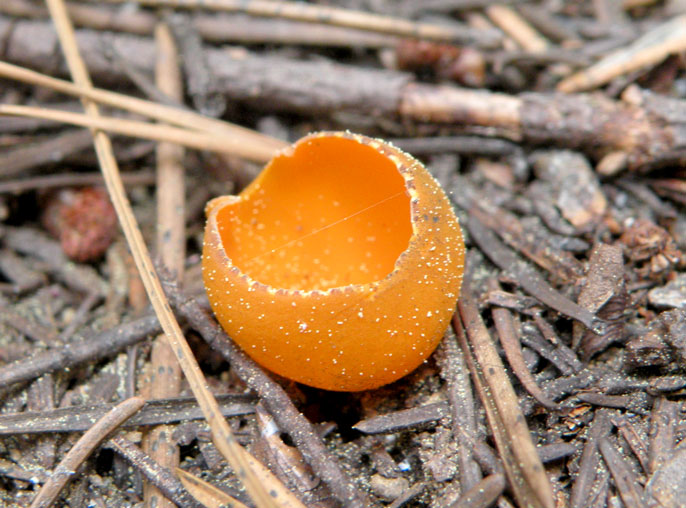 Post A Comment
Did You Know?

In 90 years of serving Yosemite National Park, the Conservancy has seen many accomplishments. From restoring the habitat of the great gray owl to funding the first museum in the Valley, Yosemite Conservancy has played a vital role in the preservation and protection of Yosemite. More...