Road Closures Due to El Portal Fire

The Big Oak Flat Road between Crane Flat and the El Portal Road is temporarily closed. There is no access to Yosemite Valley via the Big Oak Flat Road or Highway 120. Tioga Road is open and accessible via Big Oak Flat and Tioga Pass Entrances. More »
Campground Closures Due to Fire

Crane Flat, Bridalveil Creek, and Yosemite Creek Campgrounds are temporarily closed. More »
Yosemite National Park is Open

Yosemite Valley, Glacier Point, and Wawona/Mariposa Grove areas are open and accessible via Highways 140 and 41. Tioga Road is not accessible via Highways 140 and 41 due to a fire.
New Yosemite Fire (Rainbow Fire)
Rainbow View
(37 43.594 x 119 40.495; 6000'el., Mariposa Co., found May 10.)  This probable lightning caused fire was reported on the evening of May 9.  A thunderstorm, accompanied with nearly two inches of rain, occurred Friday in the fire area.  A single snag (dead standing tree) is burning and smoldering.  One quarter acre has burned.  The fire is surrounded by rock and scree and has low potential for growth.  The fire is on the north rim of Yosemite Valley, above Rainbow View, east of Fireplace Bluffs and near the Old Big Oak Flat Road into the Valley.  The smoke from this fire will be visible from Tunnel View.  The fire is on a cliff and due to inaccessability, firefighters will monitor this fire for now.   The fire poses no threat to visitors, trails, buildings, infrastructure or roads.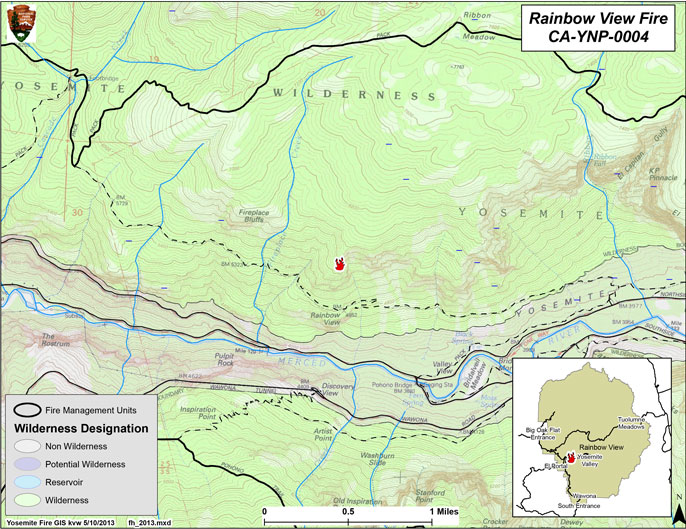 Post A Comment
Did You Know?
In Yosemite Valley, dropping over 594-foot Nevada Fall and then 317-foot Vernal Fall, the Merced River creates what is known as the "Giant Staircase." Such exemplary stair-step river morphology is characterized by a large variability in river movement and flow, from quiet pools to the dramatic drops of the waterfalls themselves.