Road Closures Due to El Portal Fire

The Big Oak Flat Road between Crane Flat and the El Portal Road is temporarily closed. There is no access to Yosemite Valley via the Big Oak Flat Road or Highway 120. Tioga Road is open and accessible via Big Oak Flat and Tioga Pass Entrances. More »
Campground Closures Due to Fire

Crane Flat, Bridalveil Creek, and Yosemite Creek Campgrounds are temporarily closed. More »
Yosemite National Park is Open

Yosemite Valley, Glacier Point, and Wawona/Mariposa Grove areas are open and accessible via Highways 140 and 41. Tioga Road is not accessible via Highways 140 and 41 due to a fire.
Meadows of Milkweed
It is that time of year again!  Yosemite Valley meadows are in bloom and the showy milkweed plants are living up to their names. The showy milkweed (
Asclepias speciosa
), native to western North America, is both a home to the milkweed beetle and a vacation layover for the monarch butterfly. This flowering plant is a hairy, erect perennial. The large, pointed, banana-like leaves are arranged opposite on the stalk-like stem. The eye-catching furry pale pink to pinkish-purple flowers are arranged in thick umbels. Their corollas are reflexed and the central flower parts, five hoods with prominent hooks, are star-shaped. The fruit is a large, rough follicle filled with many flat oval seeds with luxuriant silky plumes.  The fruit is something from another world, and soon it will open its alien pods to cotton-like seeds that will disperse on the wind.   
The best thing about showy milkweed is the cobalt milkweed beetle (Chrysochus cobaltinus). Wander through the meadow boardwalks looking for communities of the metallic blue bugs; some milkweed plants will have hundreds and some will only have two (others none). The beetle will eat the plant until the milkweed looks like a skeleton, but the plant will survive and go dormant until the next year.
Under the leaves of the milkweed plants you can look for monarch butterfly (Danaus plexippus) eggs that will become the larvae (caterpillar), the pupa (chrysalis), and finally the adult butterfly which continue north on the migration to Canada. These amazing delicate butterflies, through the course of four generations, will make it from Mexico to Canada where they will spend a warm summer, then reverse the route back to Mexico. Come migrate to Yosemite with the monarchs and look for cobalt milkweed beetles in the blossoming meadows. Sometimes in Yosemite looking down is even more picturesque than looking up.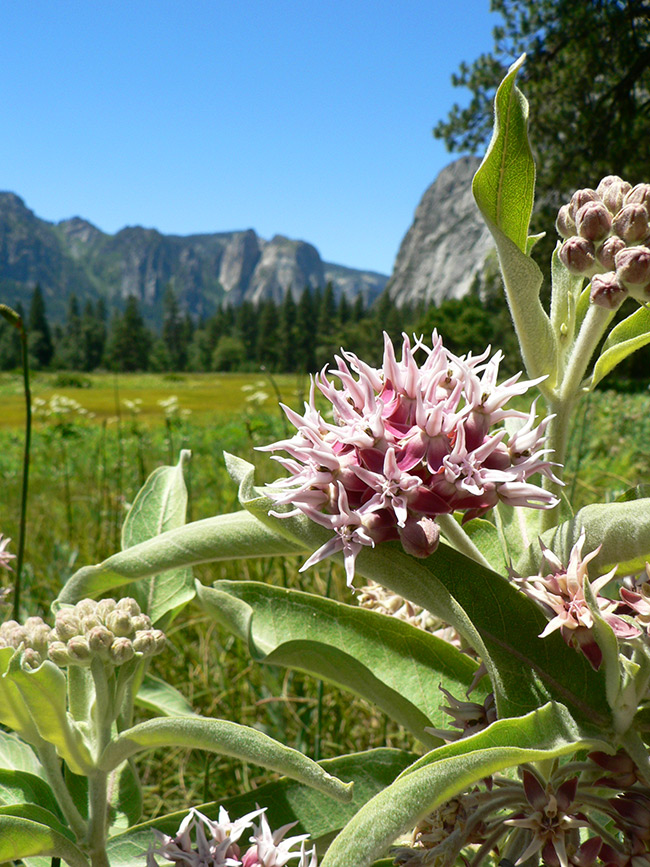 Milkweed with Cathedral Rocks in distance (photo taken in Cook's Meadow)
Nature Scene, Yosemite Valley, KP
Post A Comment
Did You Know?
Built to connect human developments on both sides of the South Fork Merced River, the Wawona Covered Bridge is one of few covered bridges in the region. Built in 1868 by Yosemite's first guardian, Galen Clark, the Wawona Covered Bridge boasts state significance within transportation, entertainment, and recreation contexts.