Climber injured in Sentinel Descent Gully
On the afternoon of June 20, 2012, the Yosemite Emergency Communications Center received report of a 32-year-old male climber who'd taken a tumbling fall while descending the Sentinel Rock Gully after climbing the Steck-Salathe route. The patient was complaining of head, neck, and back pain in the thoracic area. His partner had hiked down the gully to call for help. Several SAR team members were sent as a hasty team to locate the patient, with two others close behind with a litter and vacuum body splint (a device used for spinal immobilization). After the SAR team members arrived on scene, it was determined that the terrain was too loose and hazardous to perform a carryout or lowering operation and that a short-haul operation would be the most appropriate means of extraction. The patient, who spoke very little English, was packaged into the litter, and extracted by a short-haul qualified ranger and the park helicopter. He was flown to Ahwahnee Meadow where a medical helicopter was waiting to take the patient to a trauma center.
Although the way down after a technical climb may involve relatively easy scrambling or hiking, a hiking trail can be as treacherous as the climbing route itself, should the climber's attention stray. Whether a climber or a hiker, be sure to focus on what you're doing on the way up, as well as on the way down (especially if you're off trail).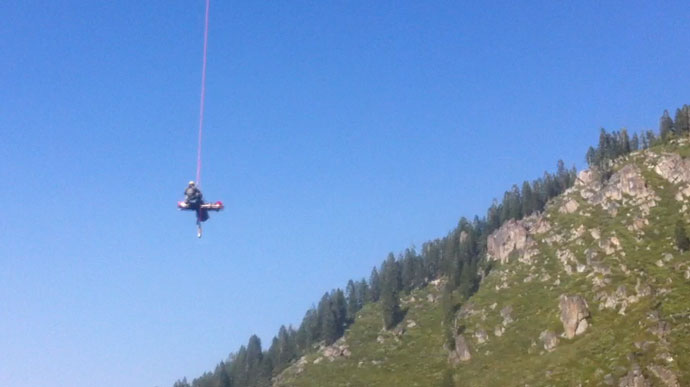 Climbing ranger Jesse McGahey and patient being short-hauled by helicopter to Ahwahnee Meadow. (NPS photo by Todd Bartlow)