Road Closures Due to El Portal Fire

The Big Oak Flat Road between Crane Flat and the El Portal Road is temporarily closed. There is no access to Yosemite Valley via the Big Oak Flat Road or Highway 120. Tioga Road is open and accessible via Big Oak Flat and Tioga Pass Entrances. More »
Campground Closures Due to Fire

Crane Flat, Bridalveil Creek, and Yosemite Creek Campgrounds are temporarily closed. More »
Yosemite National Park is Open

Yosemite Valley, Glacier Point, and Wawona/Mariposa Grove areas are open and accessible via Highways 140 and 41. Tioga Road is not accessible via Highways 140 and 41 due to a fire.
A Wolf in Flower's Clothing
A common trail companion and "square one" for a Sierra wildflower lesson, lupine is easy to find and easy on the eyes. It has multiple flowers of bluish purple and the two most common types found in Yosemite either grow close to the ground or as a small bush. This group of flowers is in the genus
lupinus
and the legume family. They can be referred to as lupine, lupin, or even bluebonnets (if you're in Texas). Like a movie star on the Riviera, give lupine a sandy spot with plenty of sun and they're as happy as can be.
Those of you who speak Latin are probably wondering what it is about this flower to inspire the name  "wolf." Those of you who don't speak Latin are now wondering if lupine is Latin for wolf. It is. Or more precisely, lupinus means "of or belonging to a wolf." I've read several explanations regarding the origin of the name. The one I like best was shared with me by a fellow ranger last summer. He gently pulled back the blue petals to reveal an inner portion that looks much like the claw of a wolf. It looks pretty cool and makes good sense. The best time to see this is early in the plant's cycle. As it matures, the "claw" opens up to reveal the flower's stamen.
Next time you're out hiking, impress your friends with this piece of trail trivia. If you are careful, it is possible to see the claw with minimal molestation and damage to the plant. While lupine is common in the park, I would be very sad if our flowers were plucked as a result of this post. (Damaging wildflowers carries a $150 fine and/or a court appearance.) Observing the Leave No Trace ethic allows our natural gifts to benefit everyone. In this way the clever wolf has segued us into a conversation about stewardship and the intersection of enjoyment and preservation. And what better topic to discuss on a warm summer day in a patch of lupine?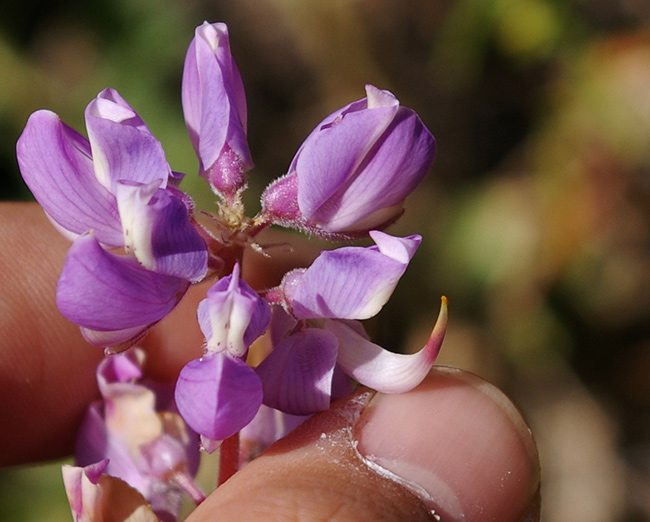 Post A Comment
Did You Know?
Yosemite and Huangshan are sister parks. Huangshan, which protects over 77 magnificent granite peaks 3,000 feet (1,000 m) or higher, is one of China's most famous and sacred scenic areas. Countless poems and writings dating back 2,200 years attest to its beauty. More...