Things To Know Before You Come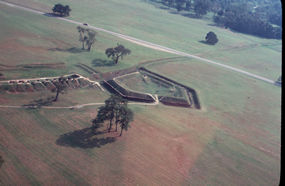 NPS Photo
PRESERVING THE BATTLEFIELD
Yorktown's historic earthworks provide tangible evidence of one of the most significant events in American history. Their continued preservation is one of the great challenges facing the National Park Service. After the Siege of 1781, General Washington ordered the allied siege lines destroyed, so they could not be turned against French troops that occupied the town that winter. After the Revolution, some of Yorktown's citizens were unsuccessful in securing Congressional funds to demolish the British earthworks. In 1861-1862, Confederate forces modified the remaining British works, while Union forces constructed new siege works through Washington's 1781 encampment areas. In the 1930's, the National Park Service began reconstruction of the Allied Siege Lines, using archeological evidence and military maps to determine their location. Erosion and visitor overuse are constant threats to both original and reconstructed earthworks. Preserving Yorktown's earthworks and other historic resources is a cooperative effort between the National Park Service and visitors.
WHAT CAN YOU DO?
First, you can recognize the importance of preservation. Then, you can help by not climbing, bicycling, or sledding on the earthworks, and walking only on designated trails as well as following other park regulations (as posted at the Yorktown Visitor Center). With your help, Yorktown's earthworks will continue to be enjoyed by future generations.


Did You Know?

Thomas Nelson, Jr., is one of Yorktown's most famous residents. He was a signer of the Declaration of Independence, served as Governor of Virginia in 1781, and commanded the Virginia militia during the 1781 siege of his hometown. His home still bears damage from the bombardment during the siege.