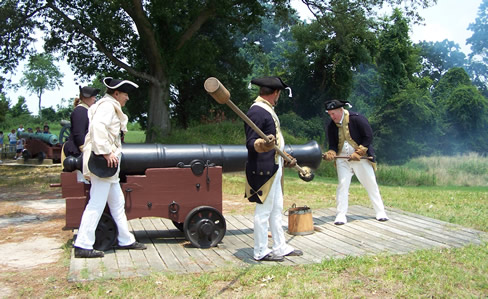 Artillery Ranges
The exact firing ranges of the artillery pieces at Yorktown are difficult to determine. Factors such as piece size, amount of powder charge and quality of the powder affected the range. The following are rough averages:
Maximum Range Effective Range
CANNON 2,000 yards 1,000 yards
MORTARS 1,400 yards 750 yards
HOWITZER 1,300 yards 750 yards
The difference between maximum and effective range, and the difficulty in determining ranges, demonstrates the nature of artillery in the American Revolution. Artillery was not an exact science, so the skill and experience of the gun crew often determined the success of the artillery.