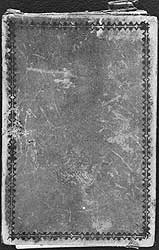 In 1978, Thomas Moran's diary, autobiography, art supplies, as well as several personal effects such as eyeglasses, pistol, holster, and sketchbook were acquired by Yellowstone National Park from Jefferson National Expansion Memorial who acquired them from Yosemite National Park. Yosemite received them in 1926 from Ruth B. Moran, Thomas Moran's daughter. In addition, there are twenty-two original Moran paintings in Yellowstone's collection. Prints of these watercolors are on view at the Albright Visitor Center in Mammoth Hot Springs, Yellowstone National Park.
On the following pages, you may explore Thomas Moran's diary as it has been transcribed. As you will notice, Moran's diary begins in the middle of a sentence on what is thought to be the second page. It is suspected that a first page exists, because it was included in an
earlier transcription; however, its location remains a mystery.
---
---