Moran's Diary Page 1
You will notice Moran's diary begins in the middle of a sentence on what is thought to be the second page. It is suspected that a first page exists, because it was included in an earlier transcription; however, its current location remains a mystery.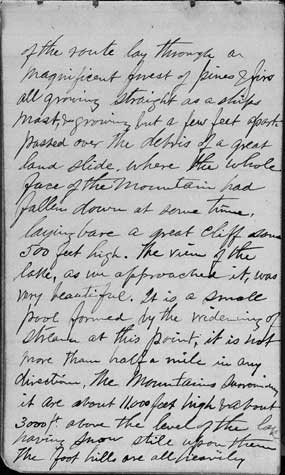 ... of the route lay through a
magnificent forest of pines & firs
all growing straight as a ships
mast, & growing but a few feet apart.
passed over the debris of a great
land slide. where the whole
face of the Mountain had
fallen down at some time,
laying bare a great cliff some
500 feet high. The view of the
lake, as we approached it, was
very beautiful. It is a small
pool formed by the widening of
stream at this point, it is not
more than half a mile in any
direction. The Mountains surrounding
it are about 11,000 feet high & about
3000 ft. above the level of the lake
having snow still upon them
The foot hills are all heavily
---
---
Click to see a larger version of this diary page.