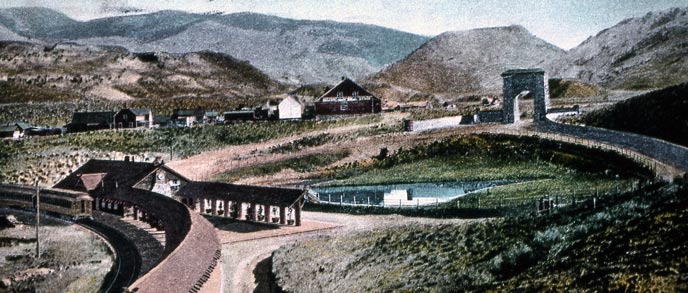 NPS/YELL 11311
The places people create in the natural world are known as cultural landscapes. In Yellowstone, these landscapes reflect the park's history and changing relationship between people and the environment.
Many places in Yellowstone have been preserved because of the information they convey about past human activities in the region or because of their significance in architectural or park history. Historic structures and sites in Yellowstone contribute to the park's record of the early and on-going efforts to balance resource preservation and facility development for public enjoyment.
Obsidian Cliff: Obsidian was first quarried from this cliff for toolmaking more than 11,000 years ago and gradually spread along trade routes from western Canada to Ohio.
Yellowstone Lake, 9,000 years ago

: The earliest intact cultural deposits in the park have been found at a site on the shore of Yellowstone Lake.

Lake Hotel, 1891
Lamar Buffalo Ranch, 1906
Mammoth Hot Springs, late 1800s: Including the Mammoth Post Office and Roosevelt Arch
Old Faithful Area

, early 1900s: Including the Old Faithful Inn and Queen's Laundry Bathhouse

Roosevelt Lodge, 1920
Fort Yellowstone; includes Norris and Bechler River soldier stations, and Roosevelt Arch.
Lake Fish Hatchery

, 1930

Northeast Entrance, 1935
Town Site of Cinnabar, Montana

, 1903: The Northern Pacific Railroad established Cinnabar in 1883 as the last stop on its branch line to Yellowstone National Park, and caused its abandonment after the railroad was extended to the park boundary in 1903. Nothing remains of the town today except archeological evidence.

Historic Roads, 1905: The road construction that began in Yellowstone in the 1870s became the United States' first large-scale road plan and served as a model for other parks. Engineer Hiram Chittenden designed the roads.
Haynes Photo Shops, 1884: As leaders in concessions development in Yellowstone from 1884 to 1962, Frank Jay Haynes and his son Jack Ellis Haynes constructed many buildings for their enterprises.
Lodging No Longer Standing: Several hotels are no longer standing in Yellowstone.
More Information
Cultural Landscapes

: A cultural landscape is an indicator of cultural patterns, values, and heritage through the way the land is organized and divided, patterns of settlement, land use, circulation, and the types of structures that are built and their placement in the landscape.

Preserving Historic Structures and Districts: Historic structures and the historical character of the park are carefully considered in park planning.
Park History: Learn about Yellowstone's story from the earliest humans to today's modern management.