Wrangell-St. Elias Visitor Center to close for the winter on Nov. 1st.

Wrangell-St. Elias's main visitor center, located near Copper Center, AK, will be closed for the winter starting November 1. The visitor center will re-open on April 1, 2015.
Mountaineering Guides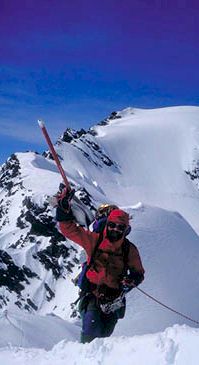 Alaska Mountain Guides & Climbing School, Inc.
(907) 766-3366
www.alaskamountainguides.com

Alpline Ascents International
(206) 378-1927
www.alpineascents.com

American Alpine Institute
(360) 671-1505
www.aai.cc

International Mountain Guides, LLC
(360) 569-2609
www.mountainguides.com

Kennicott Wilderness Guides
(907) 554-4444
(800) ON-HIKES
www.kennicottguides.com

Kling Mountain Guides
(970) 259-1708
www.klingmountainguides.com

McCarthy Mountain Guides
(907) 227-0122

St. Elias Alpine Guides
(907) 554-4445, (888) 933-5427
www.steliasguides.com

Sun Valley Trekking
(208) 788-1966
www.svtrek.com

Wild Alpine
(888) 682-2368
www.wildalpine.com
These are listings of LOCAL outfitters and guide services within Wrangell-St. Elias NP/P and surrounding communities. These businesses provide regularly scheduled services throughout the visitor season.

There are many other outfitters that provide services in the park, but may be based out of other locations within Alaska or the Lower 48. For the complete listing of ALL permitted commercial operators for Wrangell-St. Elias click here


---

These listings are provided as a service to our visitors and imply no specific endorsement by the National Park Service or Wrangell St. Elias National Park.
Did You Know?

The Malaspina Glacier, larger than Rhode Island, was named in 1874 for Capt. Alejandro Malaspina, an Italian navigator who, in service to Spain, explored the northwest coast of North America in 1791.