WRANGELL ST ELIAS SUBSISTENCE RESOURCE COMMISSION TO MEET IN CHISTOCHINA

The Wrangell-St. Elias National Park Subsistence Resource Commission will meet at the Chistochina Community Hall on Tuesday, October 29, and Wednesday, October 30, to consider a range of issues related to subsistence hunting and fishing in the park. More »
WRANGELL-ST. ELIAS TO CLOSE HEADQUARTER'S VISITOR CENTER FOR THE WINTER

Copper Center, AK – The Wrangell-St. Elias National Park Visitor Center in Copper Center will be closed for the winter beginning November 1. More »
Mountain Biking
Mountain biking opportunities are limited in Wrangell-St. Elias. Lack of maintained roads and rough, boggy conditions make riding difficult.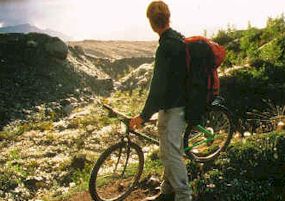 Both the McCarthy and Nabesna Roads are appropriate for mountain bikes. Both offer spectacular scenery. Bikers should be prepared for wet, muddy, dusty, uneven, and rocky conditions.
Suggested routes along the McCarthy Road include the Kotsina Road and the Nugget Creek Trail. From McCarthy one can also ride on dirt roads to the historic town of Kennecott and to the Nizina River.
Dry creek beds along the Nabesna Road that may be suitable for mountain biking include Lost Creek and Trail Creek. There are also a number of trails in the Glennallen, Copper Center-Chitina area that you might also enjoy.
Go to our Hiking Routes page to find our more about these trails and routes.


Did You Know?

Nobody knows exactly how many glaciers exist in this park. It is estimated that Wrangell-St. Elias National Park & Preserve is home to over 60% of the glacial ice in Alaska.