Bear Resistant Food Containers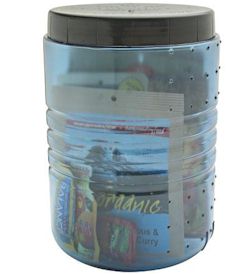 Proper food storage is REQUIRED within Wrangell-St. Elias National Park & Preserve. Using a bear resistant food container (BRFC) is an easy way to comply. You can borrow BRFCs at any park visitor center for backcountry use. BRFCs are not available at the McCarthy Road Information Station. We have a limited supply for public use. A refundable deposit is required.
Each container will fit in a standard backpacking pack and holds enough food for one person for about 5 days (more if you pack in tightly). All items with an odor must be stored in the BRFC at all times.
NEVER place a cookstove on the BRFC
ALWAYS keep the BRFC away from your tent and campsite
ALWAYS seal food in plastic bag within the BRFC
ALWAYS keep latched and secured
BRFC's are NOT watertight- in the case of rain, turn them upside-down in order to keep water out.
Where Can I Obtain My Own BRFC?
To assist you in locating Bear (Animal) Resistant Food/Garbage Containers, here is a list of known sources who carry them. We also recommend checking with your outfitter, air taxi or guide service for additional supplies.
The following list is provided as a public service; however, inclusion in this list should in no way be viewed as an endorsement by Wrangell-St. Elias, the National Park Service, or the Department of Interior.





VENDOR




ADDRESS




TELEPHONE




WEBSITE

BIG RAY'S (Sales / Rental)
507 Second Ave.
Fairbanks, AK 99701

(907) 452-3458



BEAVER SPORTS (Sales)
3480 College Road
Fairbanks, AK 99709

(907) 479-2494





BEARIKADE by WILD IDEAS, LLC (Manufacturer / Sales / Rental)
P. O. Box 60813
Santa Barbara, CA 93160

(805) 693-0550





CAMPMOR (Sales)
Box 700-U
Saddle River, NJ 07458-0700

(800) 226-7667 or
(800) 526-4784


GARCIA MACHINE (Manufacturer / Sales)
14097 Avenue 272
Visalia, CA 93292

(559) 732-3785




PHILLIPS ENVIRONMENTAL, INC. (Manufacturer of steel drums)
1813 East I Street
Anchorage, AK 99501

(907) 272-9007



R.E.I. (Mail Order Sales)
Sumner, WA 98352

(800) 426-4840



R.E.I. (Retail Store Sales)
1200 W. Northern Lights Blvd.
Anchorage, AK 99503

(907) 272-4565



UNITECH OF ALASKA (Manufacturer of steel
and poly-drums)
2401 Cinnabar Loop
Anchorage, AK 99507

(907) 349-5142


Did You Know?

Some species of shrews, the smallest of all mammals, weigh as little as 5/100 ounce, or half the weight of a penny.