Park Superintendent
What Does a Park Superintendent Do?
The Superintendent sets all local policy for the park, based on Department of the Interior (DOI), National Park Service (NPS), and Regional guidance, and interprets regional and national policy in decision making and goal setting.The position approves park and divisional goals and work plans, allocates the park budget as necessary, and sets priorities for all phases of park management.The superintendent leads all planning for the park.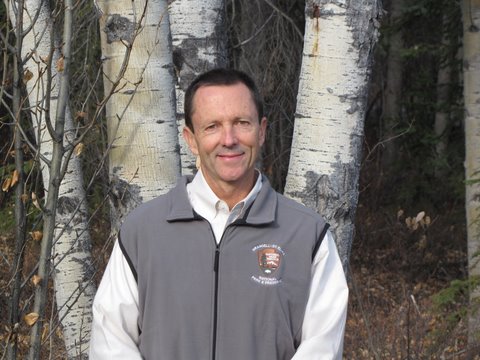 A Letter From the Superintendent:
October 28, 2011
Hello and welcome to Wrangell-St. Elias National Park and Preserve's (WRST) website. My name is Rick Obernesser and I am the Superintendent at WRST.
In order for us to get to know each other better, I invite you to ask me questions, as well as provide comments and feedback about your park via email, Facebook, and/or Twitter. I will do my best to answer your questions within the same week received. I hope you will find our website and social media pages to be a convenient means of sharing your feedback, comments, and questions with me and the park staff.
Wrangell-St. Elias is truly a unique and dynamic park within the National Park System, in addition to being a World Heritage Site. The opportunity for me to work at the nation's largest National Park is both exciting and humbling. During the week of October 2nd, I visited the park for the first time and met with park staff. I also attended the first day of the 2011 Subsistence Resource Commission Meeting in Northway, as well as met with community members and traveled to the town of McCarthy and the Kennecott National Historic Landmark. It was a whirlwind trip but one that gave me a peek into the strong community voices and the many stakeholders involved. I look forward to working with all of you, visiting the communities and people in and around the park in the coming months, and getting to know the issues.
Rick
If you would like to ask a question or provide feedback, please post on our Facebook or Twitter pages, or e-mail us.
The Alaska Regional Director has written a letter of introduction for Rick. Please click HERE to read her welcome letter.