Headquarter's Visitor Center Switching to Winter Hours on Sept. 20th

Wrangell-St Elias's main visitor center, located near Copper Center, AK, will be switching to winter hours starting September 20th. The new hours of operation are Mon.-Fri. 9:00 am-4:00 pm and closed on Saturday and Sunday.
2013 Backcountry Training Patrol
In June I went over to McCarthy to meet with the Ranger staff based there this summer.  The two seasonal rangers that are working for the park this summer have lived in the area for quite some time and are certainly not new to the park.  We are lucky to have such talented and dedicated folks working for the park in such a remote area.  My job was to teach the new folks how to conduct a backcountry patrol.  The rangers already have a great set of backcountry skills so we mostly focused on the logistics of scheduling a patrol, what to watch for in the backcountry and how to record that information after returning from the field.  The park is in the process of implementing a new recording database for information gathered out in the field.  The new database will make it easier for rangers to share information with park staff and each other. 
The training patrol hiked across the Root Glacier to Donoho Basin and spent the night.  We discussed risk management for field operations and ways to deal with human waste in the Donoho area.  We also contacted several visitors on the patrol.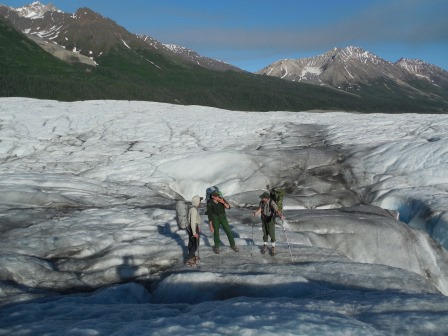 Rangers have an impromptu meeting on the Root Glacier.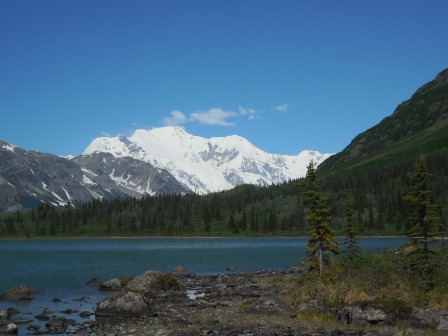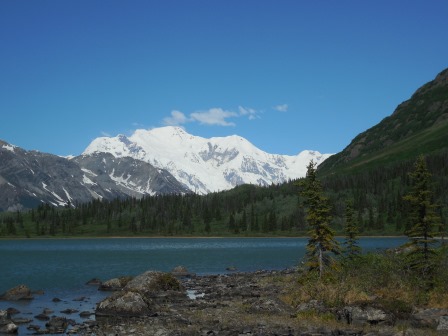 Donoho Lake with Mt Blackburn in the background.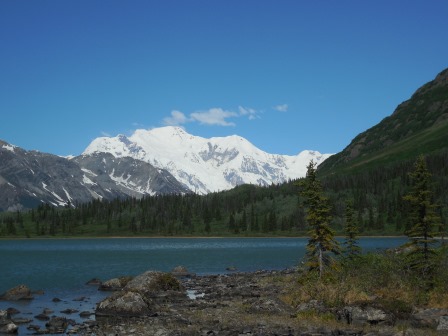 Post A Comment
Did You Know?

Caribou often travel high into the mountains in the summer to rest on patches of remaining snow and ice, where they can escape clouds of biting insects.