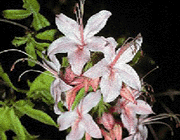 copyright USDA, NRCS, 1997 - Northeastern Wetlands
The forested areas of the park are largely either on fairly steep slopes, or swampy areas along the floodplain of Wolftrap Creek, with very little moderate slope. There are a few outcroppings of granite along the creek and in the hills. The forest is the oak-hickory forest that is predominant in this area of Virginia. The larger trees on the hills are red oaks, white oaks, chestnut oaks, and mockernut hickories. American holly, redbud, dogwood, and sassafras are common smaller understory trees, and there are some large thickets of mountain laurel on the slopes. In the wetter areas, red maple, ironwood, river birch, tulip poplars, and sycamore are prominent. In wetland areas of the park there is a variety of ferns and large areas of moisture loving skunk cabbage.

In some areas of the park, one can see the ecosystem in the midst of change from open farm field to forest. An upland meadow in the north section of the park, is now dominated by mature red cedars, Virginia pines, and white pines. In other places, mature pine and cedar trees have been overtaken by the oaks and poplars, and are slowly dying as they are shaded out by the larger trees. In the developed areas of the park, particularly around the old farm house, (now the park administration building), there are both modern and historic plantings of decorative trees, shrubs, and flowers. Surveys of park flora are ongoing.