A CALL TO ACTION

On the eve of our centennial, the employees of the National Park Service have imagined our second century of public service and charted a path to help us achieve that vision.
A Call to Action offers tangible, concrete ways for us to work together to transform our organization to make sure that we are ready for a future that is, in so many ways, different from our past. It includes bold new ideas and expands on terrific ideas that are already field-tested.
A Call to Action also signals the start of a strategic integration of national parks and National Park Service community-based programs. This will increase our reach and better leverage our resources to invite the American people to learn more about our mission and join us in the stewardship of our nation's most incredible places.
Every park, every program, every employee, and every partner has a role in this Call to Action. For it to succeed, for the National Park Service to succeed, we need your creativity, innovation, and dedication to make these action items real in your park or your program.
In this watershed moment, like no other time in our history, we have an opportunity to reflect on, celebrate, and build on our accomplishments as we prepare to serve for a second century. Please answer the call. For more information, click here.

Director Jon Jarvis






Marker Dedicated Near Dug Springs Skirmish Site
On October 7, 2008, the Missouri Department of Natural Resources dedicated a new interpretive marker commemorating the August 2, 1861 skirmish at Dug Springs, near Clever, Missouri. Those present for the dedication included Larry Toll, professor of history at Evangel College and member of Phelps Camp, Sons of Union Veterans (Union soldier); Jim Denny, historian, Missouri Department of Natural Resources; Alison Dubbert, historian, Missouri Department of Natural Resources, and Robert Clanton, member of Phelps Camp, Sons of Union Veterans (Missouri State Guard soldier). The marker is along the Wire Road on the south side of the Clever Middle School.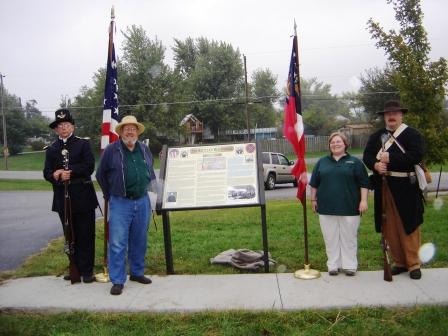 Ted Roller
Wilson's Creek National Battlefield
Visitor Center Interpretive Film
The Wilson's Creek National Battlefield Foundation and Wide Awake Films of Kansas City have produced a new 29-minute interpretive film about the August 1861 campaign. The film is currently being shown in the Visitor Center. An extended version is now available for purchase. Photos from the filming may be seen by clicking here.