Exploring the timeless depths of the cave…seeing the wind carve through the rolling prairie grass…watching a newborn bison take its first wobbly steps: Wind Cave National Park offers something for everyone. Plan ahead to get the most out of your visit.
The park is open 24 hours a day every day of the year. The visitor center is open from 8:00 am to 4:30 pm daily with extended summer hours, but is closed on Thanksgiving, Christmas, and New Year's Day.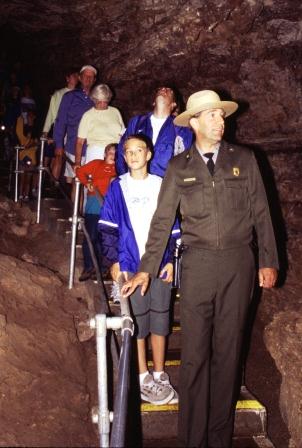 NPS Photo
All cave tours are ranger-guided and leave from the visitor center. Tickets are sold on a first-come, first-served basis. During the summer months long waits may be encountered. To avoid waits, the best time to visit the cave is during the early hours of the day. Tuesdays and Wednesdays are the busiest days, so plan around those days if possible.
The visitor center and the cave are accessible to people with disabilities, please inquire at the visitor center. There are 30 miles of hiking trails for exploring the native plants and wildlife of the prairie ecosystem.


Weather

Forcasting for Wind Cave NP is covered by the National Weather Service office in Rapid City, SD