Trail Closure Information

The Highland Creek Trail is closed. Backcountry Zones 1 and 2 are closed to all off-trail travel and use. The Sanctuary and Centennial Trails remain open to through traffic.
Temporary Road Closure Information

Oct. 18 & 19: NPS 5 and 6 are closed for the entire weekend. Monday, Oct. 20, through Wednesday, Oct. 22, NPS 5 will be closed from Highway 87 to NPS 6. Highway 87 will be closed from Road 342 (Beaver Creek Road) north to the park boundary.
Guided Tours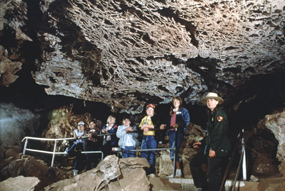 NPS Photo
All cave tours are ranger-guided and leave from the visitor center. Tickets are sold on a first-come, first-served basis, except for the Candlelight, Wild Cave Tours and groups. During peak summer visitation, long waits may be encountered. To avoid waits, the best time to visit the cave is during the early hours of the day. During the summer, weekends are good times to visit; Tuesday and Wednesdays are the busiest days. Reservations for school and organized groups are available.
For Cave Tour Safety Information please click here.

Did You Know?

The Field Milkvetch has a colorful flower which is often overlooked because it tends to grow hidden in the grass. Color can vary to reddish-purple. More...