Guided Tours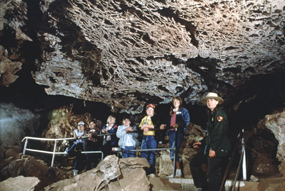 NPS Photo
All cave tours are ranger-guided and leave from the visitor center. Tickets are sold on a first-come, first-served basis, except for the Candlelight, Wild Cave Tours and groups. During peak summer visitation, long waits may be encountered. To avoid waits, the best time to visit the cave is during the early hours of the day. During the summer, weekends are good times to visit; Tuesday and Wednesdays are the busiest days. Reservations for school and organized groups are available.
For Cave Tour Safety Information please click here.

Did You Know?

A Rocky Mountain bull elk weighs between 700 - 800 pounds. Rocky Mountain elk were introduced to the park in 1914 and 1916. More...