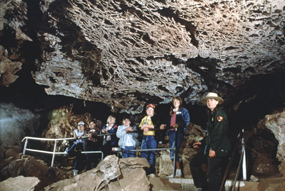 NPS Photo
Tour Information
All cave tours are ranger-guided and leave from the visitor center.
Tickets are sold on a first-come, first-served basis.
Reservations are available for the Candlelight and Wild Cave tours, as well as for groups.
Long waits may be encountered during peak summer visitation. To avoid waits, visit the cave during the early hours of the day or on weekends. Tuesdays and Wednesdays are the busiest days.
To ensure a safe visit, please review the Cave Tour Safety Information page.
NOTE: Tour schedules are subject to change. Please call 605.745.4600 to confirm tour times.
Tour & Program Schedule
October 12, 2014 - April 18, 2015 (subject to change)
April 19 - May 2, 2015 (subject to change)

May 3 - May 22, 2015 (subject to change)
Tour Cancellation: All regularly scheduled tours on May 18, 2015 are cancelled due to scheduled maintenance on the cave elevator. Work may affect the tour schedule for the morning of May 19, as well.
May 23 - May 25, 2015 Memorial Day Weekend (subject to change)

May 26 - June 6, 2015 (subject to change)
June 7 - August 2, 2015 (subject to change)

August 3 - September 7, 2015 (subject to change)

September 8 - September 19, 2015 (subject to change)
September 20 - October 10, 2015 (subject to change)
October 11 - Early 2016 (subject to change)