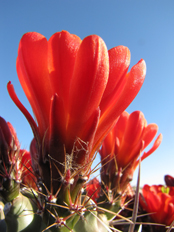 NPS Photo
Change your point of view
* Climb high! Hike to the top of the highest dune around-the highest ones are toward the end of the road-and look around you.
* Get down! Drop to your knees and look up. Low-angle yuccas against the sky are a favorite of mine. The delicacy of the dune grasses is another.
* Get close! The patterns left in the sand by wind blowing grasses and leaves are fascinating. Sometimes you will find the tiny tracks of a darkling beetle (better known as a stink bug) just waiting to be recorded; sometimes you find the actual beetle.