Arrivals, Introductions, and Losses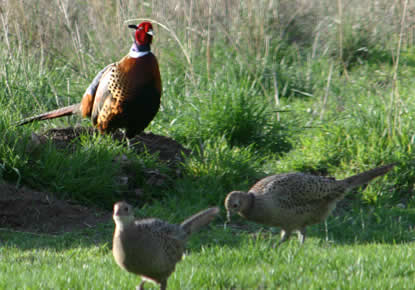 NPS
Change. Change is hope and new beginnings. Change can also be destruction, loss, and death. Change is complex. In the early 1800s Euro-Americans came to the Pacific Northwest and things changed. The Whitmans are part of that story.
Change also happens in the natural world. Below are two lists. The first contains birds that have come to the Walla Walla Valley since the time of the Whitmans. The other mentions birds that the Whitmans probably saw, but are now gone from the area. Dates indicate presence or absence in the Walla Walla Valley.
Arrivals and Introductions
English or House Sparrow: From Eurasia. Arrived* here in 1898.
European Starling: From western Europe. Arrived here in 1954.
Gray Partridge: From central Asia. Introduced** here in 1909.
Ring-necked Pheasant: From eastern Asia. Introduced here in 1884.
Chukar: From central Asia. Introduced here in 1909.
Bobwhite Quail: From Southeastern North America. Introduced here in 1897.
California Quail: From Northern California. Introduced here in 1919.
Wild Turkey: From Texas. Introduced** here in 1954,1977, and 1991.
Eurasian-collared Dove: From Eurasia. Arrived here in 1998.
Rock Pigeon: From southern Europe. Arrived here late 1910s by railroad.
Cattle Egret: From Africa. Arrived here by 1981.
*"Arrived" indicates a species that moved into the area on its own once it was on the North American continent.
**"Introduced" indicates a species intentionally released by State Fish and Game Department. A species may have been introduced more than once.
Birds No Longer Found in the Walla Walla Valley
California Condor: Gone by 1895. Never common, shot out.
Upland Sandpiper: Gone from here by 1930. Gone from state by 1998. Loss of habitat.
Greater Sage Grouse: Gone by 1920. Shot out and loss of habitat.
Columbian Sharp-tailed Grouse: Gone by 1929. Shot out and nests tilled under.
---
This list was compiled by respected birder and co-author of Birds of the Inland Northwest and Northern Rockies, Mike Denny, in 2008.
Birding without Barriers

Paved paths pass by many areas that are popular with birds. Learn where to go. Read More