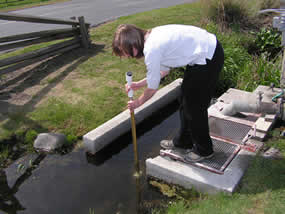 NPS
Giving the Park a "Check-up"
People should get regular check-ups and so should parks. The "Vital Signs" program monitors the health of park ecosystems and landscapes, providing park staff with information they need to keep the parks healthy into the future.
Water is Life
Though small in size, Whitman Mission National Historic Site is important to many plants and animals. Visitors sometimes see deer, mink, river otters, weasels, or even moose. Over 200 kinds of birds live in or pass through the park. Each species needs particular conditions to survive, but water is critical to all.
Is it fit to drink (or live in)?
What is in the water, or not, will determine who will live, who will die, and who will just be sickly. An instrument called a "multiprobe" is used to measure pH, temperature, turbidity, conductance, and dissolved oxygen. Measurements are taken at several locations. At the same time information about the streamside vegetation and channel shape are noted. Shade and speed of water flow can impact water temperature and amount of dissolved oxygen. more . . .
What "Bugs" Can Tell Us
Many creatures live in the water. In addition to insects and insect larvae, one can find worms, snails, clams, and crustaceans. Collectively called "Macroinvertebrates", these animals can tell park staff a lot about the health of the water. Streams will be sampled every three years. The presence of pollution sensitive species indicates that the water is healthy. Changes in the diversity of macroinvertebrates can indicate other changes in water quality.