Brandy Creek Road Closed Oct 1 - Oct 2, 2014

Whiskeytown staff is working towards improving Brandy Creek road for better access to popular visited areas. Brandy Creek Road will be closed first thing Wednesday morning Oct 1st and remain closed through the second for graveling.
Shasta Bally Update January 06, 2009
Date:
January 8, 2009
On December 11, 2008, two public scoping meetings were held to assist the National Park Service in developing an Environmental Assessment to determine the future management of the summit of Shasta Bally Mountain within Whiskeytown National Recreation Area. Both meetings were well attended at Redding's City Hall's Community Room.
Four proposed alternatives were presented to the public at the initial scoping meetings. These included Alternative A: No Action; Alternative B: Permit Existing Tenants and Enhance Natural Resources Protection; Alternative C: Permit Existing Tenants with a Phase Out Period Followed by Site Restoration; and Alternative D: Permit Existing and New Co-located Tenants with Limited Natural Resource Protection.
The purpose of the initial scoping meetings was to receive feedback on the four proposed alternatives so the National Park Service can begin to plan and analyze the impacts of permitting telecommunications operations on Shasta Bally Mountain, the highest peak in the park.
Based on discussions at the meeting and subsequent comments from the public and current tenants, two requests are being implemented in this planning effort. First, the initial public comment period is being extended to February 15, 2009 from its initial date of January 15, 2009. In addition, a fifth alternative will be considered – "Alternative F: Permit New Structures and Enlargement of Existing Telecommunications Infrastructure." While the comment period has been extended to February 15, 2009, the public is encouraged to submit comments as soon as possible.
Please feel free to contact, Jim Milestone, Park Superintendent, at 530-242-3460, for questions or comments. Post comments online to: http://parkplanning.nps.gov
Did You Know?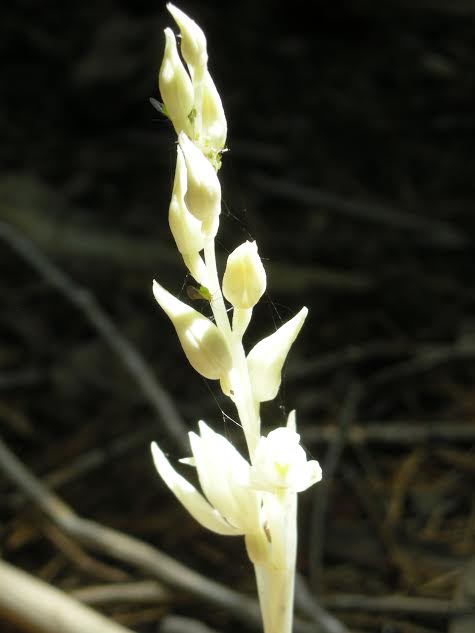 Whiskeytown has phantom orchids (Cephalanthera austiniae)? They are all white and devoid chlorophyll. This means that it cannot make energy for itself and must rely on symbiotic mycorrhizae for its nutrition.