Brandy Creek Road Closed Oct 1 - Oct 2, 2014

Whiskeytown staff is working towards improving Brandy Creek road for better access to popular visited areas. Brandy Creek Road will be closed first thing Wednesday morning Oct 1st and remain closed through the second for graveling.
Hike to Whiskeytown Falls
Date:
November 9, 2006
Contact:
Carol Jandrall, 530-242-3438
Join a Park Ranger on a hike to Whiskeytown Waterfalls and view the fall colors on Saturday November 18, 2006 at 10:00 am. Visitors should meet at the James K. Carr Trailhead located 4 miles up Crystal Creek Road off of Highway 299 west.
The 1.7 mile hike to Whiskeytown Falls is considered strenuous with several steep climbs, drop-offs and narrow footing. Sturdy hiking boots are highly recommended. Dress appropriately for various weather conditions. Bring drinking water, snack and consider bringing a hat, camera, binoculars, and hiking stick.
Rain will cancel the hike.
For more information, call Carol Jandrall at 530 242-3438.
Did You Know?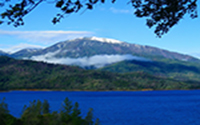 Shasta Bally is the highest point in Whiskeytown at 6199 feet. Snow can usually still be seen through June.