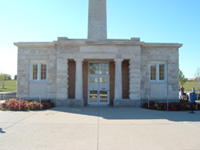 NPS
Tickets are required to visit the Washington Monument
Tickets may be obtained by either of two methods.
Free Tickets: The Washington Monument Lodge, located along 15th Street, opens at 8:30 a.m. for distribution of free, same day, timed tickets on a first-come first-served basis. One person may obtain up to six tickets as well as request their preferred ticket time. All visitors (including children ages 2+) must have a ticket to enter the Washington Monument. During peak season, tickets run out quickly. Be advised that many visitors form a line to wait for the ticket window to open long before the ticket window opens.
Order advance tickets online or call 1.877.444.6777 for individual tickets or 1.877.559.6777 for group reservations. There is a $1.50 service charge per ticket. Though Washington Monument tickets are free; reservation and mailing services are available through Recreation.gov for a fee; these fees are NON-REFUNDABLE. These tickets may be picked up at the "will call" window of the Washington Monument Lodge on the day of your tour. Tickets are available 3 months in advance of the date you are requesting. Availability is limited. During the peak season of April-September, tickets frequently are completely booked months in advance.
Unexpected Closures of the Washington Monument: The National Park Service may close or suspend access to the Monument due to inclement weather, safety and security concerns, or other unforeseen events.
There are no refunds for the service fee charged by recreation.gov.
In the unexpected event of a closure, you may re-book your ticket through recreation.gov for another day and time, but would need to pay the service charge again. You may also pursue the free first-come, first-serve day-of tickets by visiting the Washington Monument Lodge on 15th St below the Monument. The ticket window opens at 8:30am daily. During our busiest months, tickets are usually gone for the day within the first hour of distribution, so plan to arrive early.
Advance tickets for the 2016 visitor season will be released on November 18, 2015, on a 3-month rolling basis.
---
Hours
The Washington Monument is open daily except July 4 and December 25.
Regular Hours:
9:00 a.m. to 5:00 p.m. Last tour begins by 4:00 p.m.
Summer Hours (Memorial Day to Labor Day): 9:00 a.m. to 10:00 p.m. Last tour begins by 9:00 p.m.
---
Regulations
All visitors are subject to security screening. Please inform the ranger if you have a medical condition or medical device that could be affected by a magnetic field.
The following items are prohibited:
Animals (except certified guide dogs)

Suitcases or Large Backpacks

Guns or Knives

Strollers

Food or Drink

Mace or Aerosol Cans
No on-site storage is available for personal items. For security reasons, no exceptions will be made for prohibited items.