Island Trail Partial Closures

Sections of the Island Trail are undergoing needed repairs creating partial closures. Please call ahead 928-526-3367 for the latest conditions.
Plan Your Visit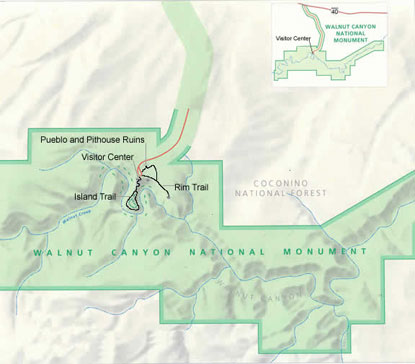 Pets are not allowed on any park trails or buildings.

Allow at least 2 hours to see the visitor center and museum, hike down to the cliff dwellings, and walk the Rim Trail.
The Island Trail descends 185 feet (56m) into the canyon providing access to 25 cliff dwelling rooms. A strenuous .9 mile (1.4km) round trip, this is one of the best ways to experience the park. Climbing the 240 steps back up can tax heart and lungs. Bring water! Elevation: 6690ft (2039m). The Island Trail closes one hour before the visitor center.
The Rim Trail (.7 mi/1km) offers an easy overview of the canyon. The Rim Trail closes 30 minutes before the visitor center.
Backcountry hiking is not allowed in order to protect fragile archeological sites. Please stay on designated trails.



Did You Know?

Willa Cather (1873-1947) is best known for her novels My Antonia and Death Comes for the Archbishop. She also wrote Song of the Lark, set at what is now Walnut Canyon National Monument.