Hike to Health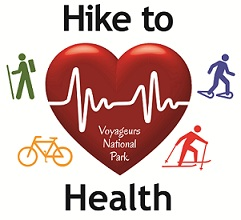 Get Outside, Explore, and Get Healthy!
Voyageurs National Park is proud to partner with the Rainy Lake Medical Center, Jefferson National Parks Association and Voyageurs National Park Association to bring visitors the Hike to Health Program!
The Hike to Health program encourages people of all ages to get outside and explore Voyageurs National Park's trails, engage in hands-on activities, and promote a healthy lifestyle.
Find out how you can hike yourself to health!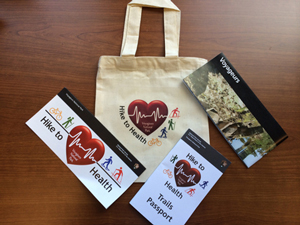 Hike to Health: Trails Passport Program NOW AVAILABLE!
Need a little boost of encouragement to get outside and explore? Voyageurs National Park has developed the Trails Passport Program. To get started visit one of our three visitor centers and ask for the Trails Passport book. Learn about the locations, different types and endurance levels of the park trails, pick the trails for you and start hiking. As you hike, look for a raised designated trail marker, located along the trail, and use a pencil or crayon to make a rubbing of that designated trail marker on the corresponding page in the Trails Passport book.

Upon the completion of 5 trails, 10 trails and all of the trails, bring your passport filled with rubbings back to a visitor center to receive special recognition.
Check out who's completed the Trail's Passport Program already!

The Hike to Health Program is made possible by a generous donation from Coca-Cola, Inc. through the National Park's Foundation's Active Trails Program.