Hike to Health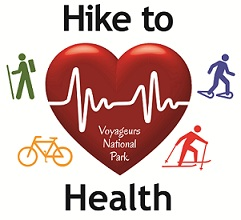 Get Outside, Explore, and Get Healthy!
Voyageurs National Park is proud to partner with Active Trails Grant, Coca-Cola, the National Park Foundation, the Rainy Lake Medical Center, Jefferson National Parks Foundation and Voyageurs National Park Association to bring visitors and patients the Hike to Health Program!
The Hike to Health program encourages people of all ages to get outside and explore Voyageurs National Park's trails, engage in hands-on activities, and promote a healthy lifestyle.
Find out how you can hike yourself to health!
Hike to Health: Trails Passport Program-Spring 2014
To add a little incentive to the Hike to Health Program, the Trail Passport Program will be launched Spring 2014!
Need a little boost of encouragement to get outside and explore? Voyageurs National Park has developed the Trails Passport Program. To get started visit one of our three visitor centers and ask for the Trails Passport book. Learn about the locations, different types and endurance levels of the park trails, pick the trails for you and start hiking. As you hike, look for a raised designated trail marker, located along the trail, and use a pencil or crayon to make a rubbing of that designated trail marker on the corresponding page in the Trails Passport book.

Upon the completion of 5, 10, and all of the park hiking trails, stop into a visitor center to receive a reward.
Fall Foliage 5K Run/Walk
Date: To be determined.
Rainy Lake Visitor Center
Due to the Rainy Lake Recreation Trail construction, this activity has been postponed until Spring of 2014. Please check back for further updates and information.
Come celebrate the Grand Opening of the Rainy Lake Recreation Trail!
Fall Volunteer Rendezvous
September 27 & 28, 2013
Rainy Lake Visitor Center
Celebrate National Public Lands Day with Voyageurs National Park Association and park staff! This years project is focused on the Black Bay Beaver Pond Ski Trail.
For more information and to register visit Voyageurs National Park Association.

The Hike to Health Program is made possible by a generous donation from Coca-Cola, Inc. through the National Park's Foundation's Active Trails Program.
Did You Know?
You can view yellow and showy ladyslipper orchids outside of the Kabetogama Visitor Center in Voyageurs National Park. Blooms typically occur in late spring or early summer. Call ahead for details.