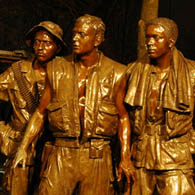 NPS PHOTO
This page will document the restoration project at the Three Servicemen Statue at the Vietnam Veterans Memorial.
The Three Servicemen Statue currently is enclosed by a temporary structure that will allow the conservators to have a more controlled environment in which to do their work. The walkway in front of the statue will remain open so visitors may still access the In Memory plaque and view the Wall. There are windows in the temporary structure that will allow visitors to see the ongoing work on the statue.
Please keep checking back as we chart the progress and update the images below in the Three Servicemen Statue Project Album.