Frequently Asked Questions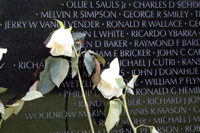 How many names are on the wall?
Currently there are 58,261. This number can change every Memorial day if the Department of Veterans Affairs receives additional information.
What happens to items left at the memorial?
Items are gathered each day by park staff, and then delivered to the archive collection for identification, tagging, and storage.
Is the archive collection open to the public?
No it is not. There is a rotating selection of items from the Vietnam Veterans Memorial on display at the Smithsonian Museum of American History.