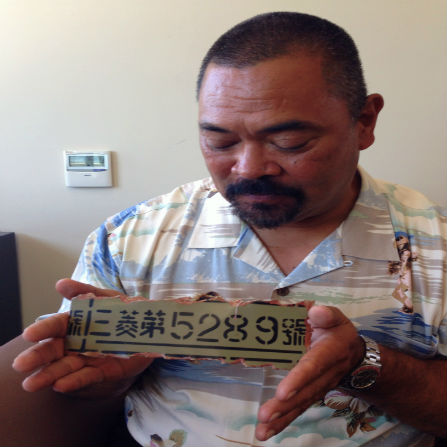 Photo taken by: Daniel Martinez, NPS Historian
New Artifact Donation!
World War II Valor in the Pacific National Monument relies primarily citizens like Damon Senaha from Hawaii donating family heirlooms, memorabilia, photographs, and diaries to tell the Pacific War story. Mr. Senaha purchased this very rare piece of a Japanese plane (Japanese Type 00 Carrier Fighter ("Zero") that crashed at Fort Kamehameha December 7, 1941 on Ebay and donated to the National Park Service. Pilot Takeshi Hirano from the carrier Akagi perished in the crash and the planes was by Military Intelligence. Mr. Senaha's generous gift will be accessioned into our permanent collection and become available for research and exhibition after it is accessed by a professional conservator and appropriately cared for.