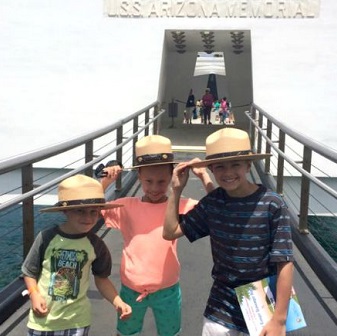 NPS Photo
New Junior Ranger Programs Now Available online
World War II Valor in the Pacific National Monument is excited to announce that two brand new, updated versions of the Junior Ranger program are now available! The
Keiki Ranger Activity Book
(for ages 3-6) and
Junior Ranger Scavenger Hunt
(for ages 7-12) have been created to reflect the new scope of the Monument in addition to the changes and new exhibits at Pearl Harbor Visitor Center.

Like the original USS Arizona Memorial Junior Ranger Booklet, the new WWII Valor in the Pacific National Monument Junior Ranger programs have been designed to help children embrace and enjoy learning about history. The goal is to help them make meaningful connections during their visit to VALR, which is a definite change of pace from the other activities they are probably experiencing on their visit to Hawaii!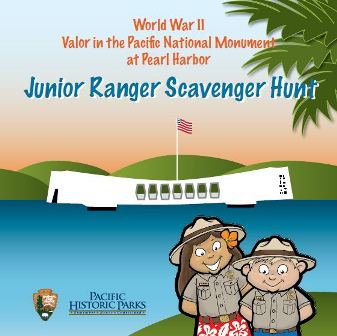 Each booklet approaches history with a child in mind, which is the purpose of the Junior Ranger program. Junior Rangers not only earn a badge upon completion of the book, but they also learn the story of December 7, 1941 and gain an appreciation for the mission of WWII Valor in the Pacific National Monument.
Due to high demand, the Keiki Ranger Activity Book and Junior Ranger Scavenger Hunt are currently unavailable at the Monument, however they can be viewed, downloaded and printed for free from the links above. The programs are designed to be completed while at the Pearl Harbor Visitor Center. Each Junior Ranger candidate should bring his or her completed book back to the NPS Ticket and Information Desk in order to receive a Junior Ranger badge. Please see a Park Ranger if you have any questions.
Over 6,000 Students Across Hawaii Participate in Simultaneous Reading Aloud Program
For the first time ever, the National Park Service and Pacific Historic Parks will share the historical significance of December 7th with over 6,000 school-age children across Hawaii with a simultaneous reading aloud program. Children attending more than 130 elementary and intermediate schools who are enrolled in afterschool care programs managed by the Department of Education, Kama'aina Kids, and YMCA of Honolulu will learn about the real-life story of an unlikely friendship between the late Pearl Harbor Survivor Richard Fiske and Japanese Fighter Pilot Zenji Abe. The book, entitled Pearl Harbor Warriors: The Bugler, The Pilot, The Friendship, is a story of peace and forgiveness and how these men, who were once enemies of war, overcame their hatred and fear for one another. In 1991, as a symbol of peace and friendship, Abe gave Fiske $300 and asked him to lay two roses at the Arizona Memorial each month, one for him and one for Fiske. He also asked Fiske to play the taps on his bugle after he did this. Fiske honored this request every month until he passed away in 2004. Pacific Historic Parks has purchased 175 copies of the book to provide to each participating school.
In addition, three more Pearl Harbor survivor and civilian witness stories have been adapted for parents and students to read together at home. Please click here to learn more about the events of December 7th from the perspectives of Pat Thompson, Sterling Cale, and Jimmy Lee.