Wilson Road Closed

Wilson Road is closed Monday - Friday from 6:00 a.m. to approximately 5:30 p.m. until further notice to all traffic including including autos, walkers, joggers, bikers, horses, etc. while the new parking lot is constructed. More »
Getting Around
Most visitors to Valley Forge Park travel by car, tour bus, or school bus. Nine of the park's most significant historical sites are outlined along a 10-mile driving tour loop called The Encampment Tour. An 8.7-mile paved multi-use trail parallels most of the driving tour and accommodates walkers, bike riders, and equestrians. Seasonally, The Encampment Store runs it's popular 90-minute guided trolley tour.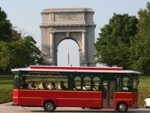 Valley Forge Trolley Tour
This 90-minute guided tour gives you the full story of the Valley Forge Encampment. Enjoy the expertise of a professional guide on an old-fashioned trolley. Extended stops are made at Washington's Headquarters and Muhlenberg's Brigade.
Tickets available in the Encampment Store at the Visitor Center. Reserve them in advance, call 610-783-1074.


Did You Know?
Access to many National Park Library catalogs is available on-line. Valley Forge NHP is currently in the process of creating an electronic catalog. We will use this site to keep you up-to-date on our progress. Until then you might wish to access other national park libraries currently on-line. More...