Getting Around
Most visitors to Valley Forge Park travel by car, tour bus, or school bus. Nine of the park's most significant historical sites are outlined along a 10-mile driving tour loop called The Encampment Tour. An 8.7-mile paved multi-use trail parallels most of the driving tour and accommodates walkers, bike riders, and equestrians. Seasonally, The Encampment Store runs it's popular 90-minute guided trolley tour.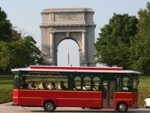 Valley Forge Trolley Tour
This 90-minute guided tour gives you the full story of the Valley Forge Encampment. Enjoy the expertise of a professional guide on an old-fashioned trolley. Extended stops are made at Washington's Headquarters and Muhlenberg's Brigade.
Tickets available in the Encampment Store at the Visitor Center. Reserve them in advance, call 610-783-1074.


Did You Know?

Port Kennedy Cave, located in what is now Valley Forge NHP, produced one of the most significant assemblages of Pleistocene fossils in North America. 14 plants and 48 animals are represented, including wolverine, Wheatley's ground sloth, long-nosed peccary, Hay's tapir, and lesser short-faced bear. More...