Current Conditions
Park Roads and Trails
The gravel parking lot on Yellow Springs Road is closed. On August 11, 2014 a new, larger parking lot on Wilson Road opened. Please refrain from parking along Wilson Road and use the new parking lot. A new paved trail extends from the parking lot to the Mount Misery Trails.
County Line Road is closed Monday - Friday from 7 a.m. to 5 p.m. due to heavy construction related to the asbestos remediation project. This closure applies to all vehicular, pedestrian, bicycle, and equestrian traffic.
All other park roads and trails are open.
For more information about these closures, please view the
Construction Projects
page.
Parking at the Visitor Center
Bus Parking
All bus parking is located in the lower parking lot (keep right at the fork when entering the park). Buses may drop off and pick up passengers in front of the Visitor Center, however all buses must leave the drop off area while waiting for passengers. Please consult with your tour or tour director if you are scheduled to meet in the upper parking lot and arrange to meet at another location, such as the lower parking lot.

Passenger Drop Off and Pick Up
Passenger drop off and pick up is available in front of the Visitor Center, however all vehicles must leave the drop off area while waiting for passengers.

Accessible Parking
Eight accessible parking spots are available in front of the Visitor Center main entrance. Visitors can enter the Visitor Center at ground level and take the elevator to the second floor to access the Theater.

No Idling Policy
In an effort to improve visitor enjoyment and reduce environmental impact, Valley Forge has implemented a no idling policy for motor vehicles within the park. All motor vehicles that are parked for more than 30 seconds must turn their engines off. This restriction is to reduce public exposure to diesel, exhaust particulate matter, and other toxic air contaminants by limiting the idling of buses, trucks, and other motor vehicles. In addition, this restriction will limit the noise impact on visitors throughout the park. Learn more about park rules and regulations.

For further information on this project and questions about navigating through the park, please call the front desk at 610-783-1099.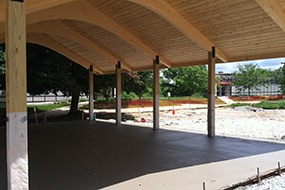 NPS/Boice
Construction Projects
The park has a number of ongoing projects that may impact your visit. Any closures caused by construction projects will be listed at the top of this page. To learn more about the current projects in Valley Forge, visit our construction projects page.
Did You Know?

Valley Forge NHP commemorates one of the most defining events in our nation's history: the encampment of the Continental Army at Valley Forge in 1777-78. General George Washington's troops embodied triumph over adversity. Their commitment was a turning point in the American Revolution.