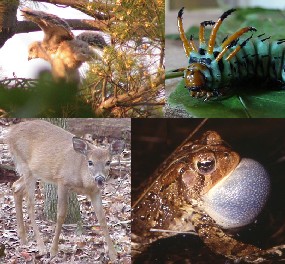 (photo credits:  Carol Fitzgerald, NPS, Bill Moses, NPS)
Since 1977 the National Park Service at Valley Forge National Historical Park has documented wildlife observations from visitors, staff, and research cooperators. To date, over 315 species of animals have been reported within the park; 225 of these are birds! Such an impressive diversity of animal species has been observed within the park because of the variety, sizes and spatial arrangements of habitat types, including deciduous forests, tall-grass meadows, wetlands, and riparian zones.

The National Park Service recognizes the park's significant natural resources and has invested in continuing scientific research to document and learn more about the wildlife here. Researchers from local universities, including the Pennsylvania State University and West Chester University of Pennsylvania, have recently completed inventories of amphibians, reptiles, and birds.