The Encampment Store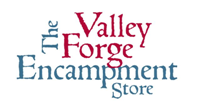 Take home a piece of the Valley Forge experience with you or just stop in to shop through our wide variety of books on the American Revolution, unique gifts, reproductions, custom one-of-a kind products and much more. Snacks and beverages are also available in the cafe. Shop online!
The Encampment Store offers tour guide services throughout the year. Trolley Tours operate on weekends in the spring and fall, daily in the summer, and select days during the holiday season. Special children's activities and family programs are offered on select days throughout the year. Call the store to reserve your trolley tickets in advance.
The Encampment Store is located on the main floor of the Visitor Center and open daily from 9 AM to 5 PM and closed on Thanksgiving, Christmas, and New Years Day.
Contact The Encampment Store
Phone: 610-783-1074
Fax: 610-783-4542
Email: info@encampmentstore.org
Tours of the Park
The Encampment Store's tours of the Park are an excellent way to experience the beauty and history of Valley Forge National Historical Park. Whether you take a trolley tour, explore by bicycle, travel in your own vehicle or discover the park with your bus group, the Encampment Store offers great options to learn the history of Valley Forge and lead you over some of our nation's most hallowed ground.