Plan Your Visit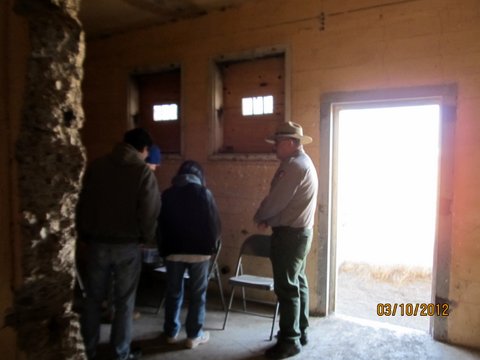 Hours
Temporary Visitor Center is staffed Memorial Day weekend - Labor Day from 8:30am - 5:00pm
From Labor Day - Memorial Day the temporary visitor center is unstaffed, but you may view the exhibits and pick up maps and brochures Monday - Friday from 9:30 a.m to 5:00 p.m.

The temporary Visitor Center is located at the Tulelake Fairgrounds Museum, 800 Main Street, Tulelake, CA.
---
Tours
Summer tours are offered from Memorial Day weekend - Labor Day weekend, on Friday, and Saturday .
Summer tours start at 11:00am and 1:00pm, at the visitor center located at the Tulelake fairgrounds at 800 Main St. in Tulelake, CA.
The 11:00am tour is of Camp Tulelake and the 1:00pm tour is of the Tule Lake Segregation Center.
---
Winter tours are offered on the first Saturday of the month, with the next tour on April 6, 2013.
Winter tours will start at 9:00 am at the visitor center located at the Tulelake fairgrounds. To reserve your spot on a winter tour please call the Lava Beds visitor center at 530-667-8113.
Fees
There is no fee for touring either locations of the Tule Lake Unit.
There is a fee for visiting the Tulelake Fairgrounds Museum of local history.
---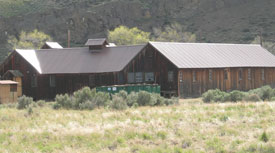 Camp Tulelake

is located on Hill Road approximately two miles north of the
Klamath Basin Wildlife Refuge Visitor Center.
You can see the outside of the buildings from the road.
Camp Tulelake Site Bulletin>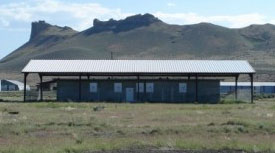 The Tule Lake Segregation Center Jail
is located on Highway 139 near Newell, CA. You can see the outside of the jail from the road near a State of California roadside historical marker. Currently, funds are being raised to restore this building.
Learn more about the restoration>
Did You Know?

CCC enrollees were paid $30 a month, $25 of which was sent home or put in a savings account.  They built over 300 feet of rock wall around the Tule Lake Fish and Wildlife Headquarters. They also constructed the observation station and duck hospital.