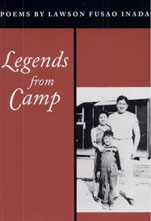 Two Generations
Poet Lawson Inada and his son, Miles Inada, an artist, render a Sansei and Yonsei look at the Japanese American incarceration experience. Their works, both titled Legends From Camp, are based on Lawson Inada's book of poetry (1992) of the same name, which was honored in 1994 by the Before Columbus Foundation with an American Book Award.
An internationally acclaimed poet and gifted raconteur, Inada served as the Poet Laureate for the State of Oregon from 2006-2010, and is the recipient of numerous awards and honors, including a Guggenheim Fellowship in 2004. He is the author of Drawing the Line and editor of an anthology of the Japanese American experience, All That We Could Carry. His 1971 book of poetry, Before the War: Poems as the Happened, was the first volume of poems by an Asian American to be published by a major commercial publisher.
Mr. Inada has graciously given us permission to provide a pdf version of the poems>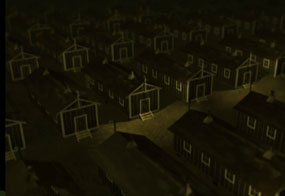 The film by his Yonsei son, Miles Inada, Legends From Camp (2004) is a haunting computer-animated look at the World War II Japanese American incarceration. Animated and directed by award-winning animators Evan Carroll and Miles Inada, Legends From Camp features an origianl soundtrack by Oregon Shakespeare Festival composer Todd Barton.