Fort Caroline Closed on November 2nd

Fort Caroline National Memorial including Spanish Pond will be closed to the public on Sunday November 2nd, 2014. The visitor center and trails will reopen on Monday the 3rd of November. The Theodore Roosevelt Area and Ribault Column will remain open.
Visitor Center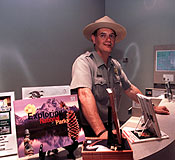 Visitor Contact Areas
There are three areas in the Preserve that have visitor contact areas where you can speak with park staff.
Choose one the links below:
Timucuan Preserve Visitor Center (history and ecology)
Kingsley Plantation (plantation era history)
Ribault Club (Partnership Visitor Center with Preserve area history and nature highlighted)
National park areas are closed Thanksgiving, Christmas and New Year's Day. The Preserve Visitor Center and Kingsley Plantation are open daily from 9:00 a.m. to 5:00 p.m. Ribault Club is open Wednesday - Sunday, 9:00 a.m. to 5:00 p.m.
There are a total of five passport stamps available at the three Preserve sites listed above.


Did You Know?

One of the Huguenot inhabitants of la Caroline had the surname of "DuVal." Jacksonville, Florida, where the national memorial is located, is within Duval County which is named for Florida's first civilian territorial governor, William Pope Duval, a Huguenot descendant. More...