Visitor Center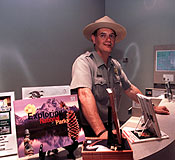 Visitor Contact Areas
There are three areas in the Preserve that have visitor contact areas where you can speak with park staff.
Choose one the links below:
Timucuan Preserve Visitor Center (history and ecology)
Kingsley Plantation (plantation era history)
Ribault Club (Partnership Visitor Center with Preserve area history and nature highlighted)
National park areas are closed Thanksgiving, Christmas and New Year's Day. The Preserve Visitor Center and Kingsley Plantation are open daily from 9:00 a.m. to 5:00 p.m. Ribault Club is open Wednesday - Sunday, 9:00 a.m. to 5:00 p.m.
There are a total of five passport stamps available at the three Preserve sites listed above.


Did You Know?

The flag that flies over Fort Caroline is a sixteenth century French flag with "fleur de lis" heraldic symbols in gold on a blue background. The "fleur de lis" is an unoffical symbol of France. More...