Fort Caroline Closed on November 2nd

Fort Caroline National Memorial including Spanish Pond will be closed to the public on Sunday November 2nd, 2014. The visitor center and trails will reopen on Monday the 3rd of November. The Theodore Roosevelt Area and Ribault Column will remain open.
Timucuan Preserve Visitor Center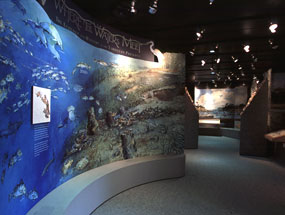 NPS/Kelly LaDuke
Located at Fort Caroline National Memorial, the Timucuan Preserve Visitor Center hosts the exhibit "Where the Waters Meet." This exhibit showcases the richness of the environment in northeast Florida and how humans have interacted with this environment for thousands of years. The Visitor Center hosts a bookstore and information desk, and activities are available to do while exploring the exhibits.
The Visitor Center is located at Fort Caroline National Memorial.
There are also visitor contact stations at Kingsley Plantation and Ribault Club (Partnership Visitor Center).


Did You Know?

Timucua warriors wore their hair in a top knot, which made them appear taller. Historic drawings of Timucua and French contact show the Timucua to be of greater stature than the French. More...