Timucuan Preserve Visitor Center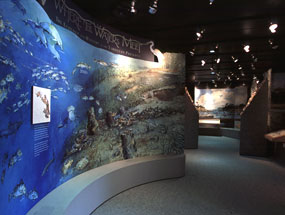 NPS/Kelly LaDuke
Located at Fort Caroline National Memorial, the Timucuan Preserve Visitor Center hosts the exhibit "Where the Waters Meet." This exhibit showcases the richness of the environment in northeast Florida and how humans have interacted with this environment for thousands of years. The Visitor Center hosts a bookstore and information desk, and activities are available to do while exploring the exhibits.
The Visitor Center is located at Fort Caroline National Memorial.
There are also visitor contact stations at Kingsley Plantation and Ribault Club (Partnership Visitor Center).


Did You Know?

The word "Caroline" - while feminine in gender - does not refer to a female of that name but rather to a man. The word "Caroline" comes from the Latin version of Charles in this case King Charles IX of France. More...