Seasonal Closure

Final day for cave tours is Sept 22. The caves and visitor center will be closed for the winter season beginning Sept 23. The park will re-open in the Spring.
Cave Tours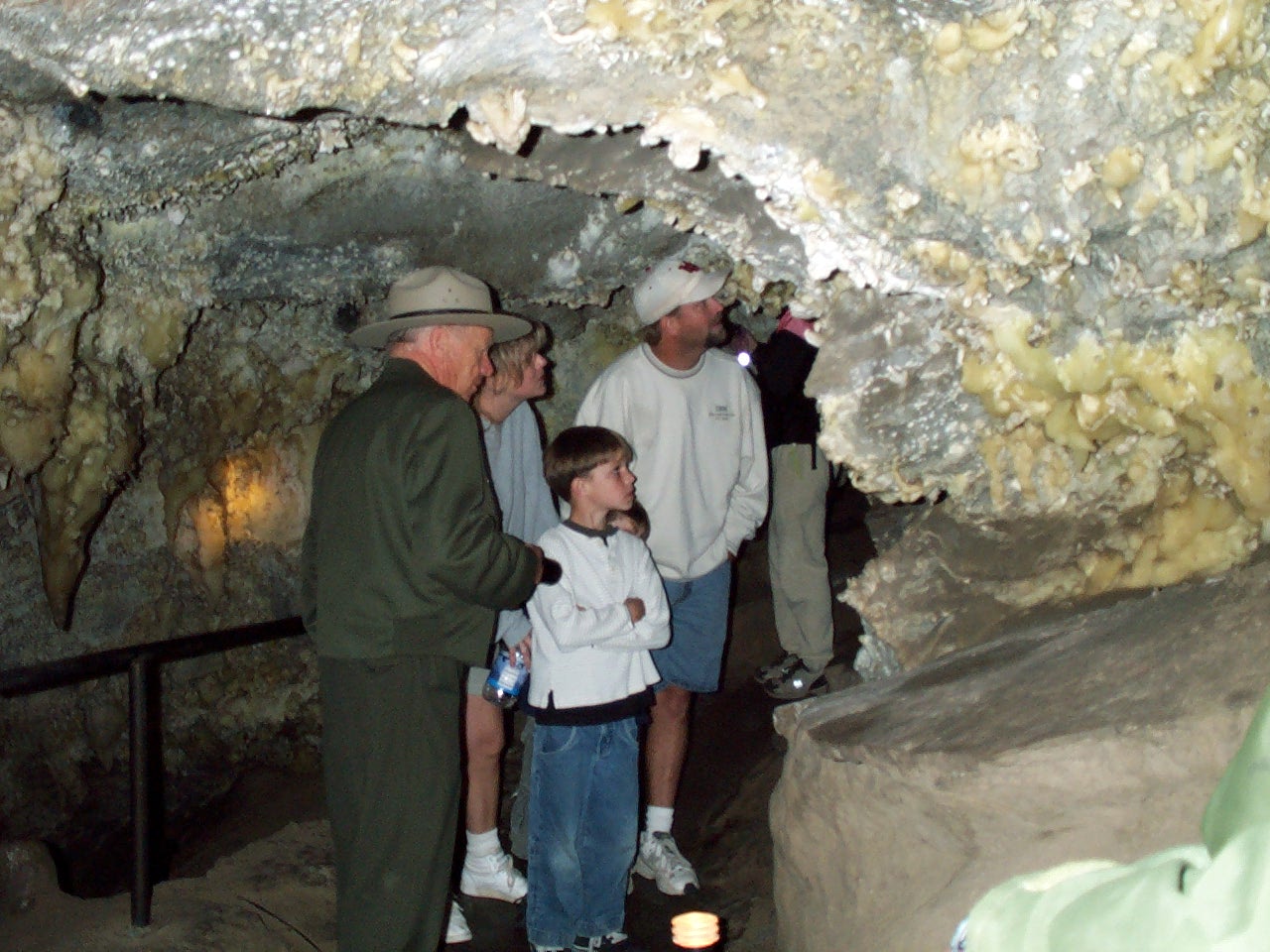 NPS
Timpanogos Caves may only be entered with a guided tour. Cave tours are offered daily throughout the summer season and are led by park rangers.
Cave tours are 55 minutes long and are limited to 16 people per tour. We recommend that you purchase cave tour tickets before your visit by calling the visitor center at (801) 756-5238, using your credit card. Advance tickets may be purchased up to 30 days prior to your visit. Visitors arriving without advance tickets sometimes wait several hours before beginning their tour or are turned away because all tours for that day are sold. See Fees and Reservations for more information.
The only access to the cave system is by walking a strenuous 1 1/2-mile-paved trail, which rises 1,092 ft to an elevation of 6,730 feet above sea level. The round-trip hike and tour of the cave system takes about three hours. Mid-summer temperatures on the trail can reach 100 degrees F. However, temperatures in the caves average 45 degrees, so a sweater or light jacket is recommended. Hiking shoes, water, flashlights and sunscreen will make your visit safe and enjoyable.
Because of the steepness and incline of the cave trail, strollers and other wheeled vehicles are not allowed. Visitors may bring a baby backpack or carrier for hiking to the caves, but they will be asked to leave their baby carriers outside while they tour the caves, infant in arms. No pets are allowed on the cave trail or in the caves.
To help prevent the spread of White Nose Syndrome, a disease that is killing hundreds of thousands of bats in North America, the Monument prohibits any boots, clothing or gear (including cameras) that have been in ANY other cave or mine at ANY time.
Did You Know?
Timpanogos Cave is known for its high concentration of helictites - a spiraling cave formation that seems to defy gravity. Helictites are formed when calcite crystals and dissolved impurities are forced out of a tiny central canal in the helictite by hydrostatic pressure.