South Unit
South Unit Visitor Center
Location: South Unit entrance adjacent to the town of Medora.
Hours: Daily, year-round, 8:00 am - 4:30 pm MT
Summer hours: 8:00 am - 6:00 pm MT (Memorial Day to Labor Day)
Closed Thanksgiving, Christmas, and New Year's Day.
Features:
Museum with Theodore Roosevelt collections and exhibits on history, nature and geology
17-minute park film, "Refuge of the American Spirit"
Staffed information desk
Theodore Roosevelt Nature and History Association Bookstore
Restrooms
Drinking fountain
Park rangers present a variety of programs June through mid-September; check the park website, visitor center or park bulletin boards for dates, times, and more information
Visitor Center, Maltese Cross Cabin, and restroom facilities are wheelchair accessible.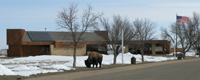 Painted Canyon Visitor Center

Location: Exit 32 on Interstate 94
Open seasonally (May-October)
Hours: 9:30 am - 4:30 pm MT
Features:
Panoramic views
Wildlife viewing
Hiking trails
Staffed information desk
Exhibits and displays
Theodore Roosevelt Nature and History Association Bookstore
Picnic shelters
Restrooms
Drinking fountain
Vending machines
Public telephone
Visitor center, overlook, picnic area, and restrooms are wheelchair accessible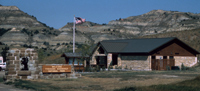 North Unit
North Unit Visitor Center
Location: Entrance of North Unit
Hours: Friday through Monday, 9:00 am - 5:00 pm CT
The trailers at the park entrance serve as a temporary contact station for visitors to the North Unit. The original building is closed due to a structural failure. While planning and construction for a new facility are underway, the temporary visitor center will remain open. Park information, informal presentations, restrooms and gift shop are all available at this location.