Road Closures

The Scenic Drives in the North and South Units may be closed due to winter weather conditions. For current road status, click on the link below: More »
North Unit Road Closure

The North Unit Scenic Drive will be closed at the Caprock Coulee parking area while repairs are in progress. Repairs may be delayed because of weather conditions, but are expected to be completed by May 15.
Visitor Centers/Museums

SOUTH UNIT
South Unit Visitor Center
Location: South Unit entrance in Medora.
Hours: Daily, year-round, 8:00 a.m. - 4:30 p.m. MT
Summer hours: 8:00 a.m. - 6:00 p.m. MT
Closed Thanksgiving, Christmas, and New Year's Day.
Features:
Museum including Theodore Roosevelt collections, exhibits on history, natural history, and geology
Free, 17-minute park film, "Refuge of the American Spirit"
Staffed information desk
Theodore Roosevelt Nature and History Association Bookstore
Restrooms
Drinking fountain
Park rangers present a variety of programs June through mid-September. Check at the visitor center or on park bulletin boards for dates, times, and more information.
Visitor Center, Maltese Cross Cabin, and restroom facilities are wheelchair accessible.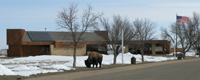 Painted Canyon Visitor Center
CLOSED FOR THE SEASON
Features:
Panoramic views
Wildlife viewing
Nature Trail (1 mile)
Trail access to Upper Paddock Creek Trail (2 miles one-way)
Staffed information desk
Exhibits and displays
Theodore Roosevelt Nature and History Association Bookstore
Picnic shelters
Restrooms
Drinking fountain
Vending machines
Public telephone
Visitor Center, overlook, picnic area, and restrooms are wheelchair accessible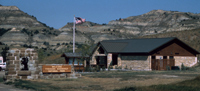 NORTH UNIT
North Unit Visitor Center
CLOSED FOR THE SEASON
Did You Know?

Prairie dogs are often persecuted for their apparent destructiveness to the plants in their towns. Although they do keep the grass's growth to a minimum, the rodent's foraging habits promote the growth of forbs, upon which other grazing animals such as bison, elk, deer, horses, and pronghorns feed. More...