Road Construction

Visitors to the South Unit may experience up to 30 minute delays and rough road conditions due to road construction along East River Road. Construction is expected to be complete by October 1. Check back for updates Updated 08/13/2014 5:16 pm MT
Fishing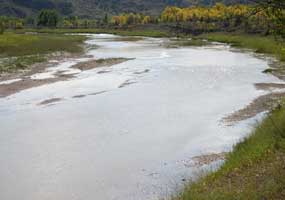 "Sometimes we vary our diet with fish - wall-eyed pike, ugly slimy catfish, and other uncouth finny things, looking very fit denizens of the mud-choked water..."
Theodore Roosevelt
The Little Missouri River begins in Northeastern Wyoming near Devil's Tower National Monument and meanders northward through Montana and into Southwestern North Dakota. It eventually flows into the Missouri River/Lake Sakakawea after passing through the South Unit, past the Elkhorn Ranch Unit and on through the North Unit of the park.
Did You Know?

Handiwork by federal relief agencies in the 1930s including the CCC, WPA and ERA can be viewed in both the North and South Units. More...