Road construction in South Unit

Road construction on the South Unit Scenic Drive will begin on Monday, May 6.The construction crew will work on the East River Road from Wind Canyon to Beef Corral Bottom.Visitors will encounter single-lane traffic and delays of up to 30 minutes. More »
Family Fun Packs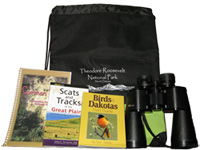 NPS Photo
Borrow a Family Fun Pack for the day!
The pack includes field guides, binoculars, hand lenses, and activities to help families enhance their visit and sense of discovery.
Family Fun Packs are available at the South Unit Visitor Center and the North Unit Visitor Center. To check a pack out for a 24-hour loan, adults may inquire at the visitor center desk. There is no charge for this service.
Did You Know?

The Little Missouri River began to carve the badlands about 600,000 years ago during the Pleistocene Epoch.  The river formerly ran to Hudson Bay, but the glaciers diverted it into the Missouri River. More...