Road Construction

Visitors to the South Unit may experience up to 30 minute delays and rough road conditions due to road construction along East River Road. Construction is expected to be complete by October 1. Check back for updates Updated 08/13/2014 5:16 pm MT
Family Fun Packs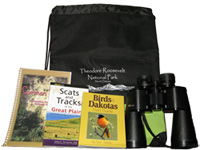 NPS Photo
Borrow a Family Fun Pack for the day!
The pack includes field guides, binoculars, hand lenses, and activities to help families enhance their visit and sense of discovery.
Family Fun Packs are available at the South Unit Visitor Center and the North Unit Visitor Center. To check a pack out for a 24-hour loan, adults may inquire at the visitor center desk. There is no charge for this service.
Did You Know?

Theodore Roosevelt had two ranch operations along the Little Missouri River - the Maltese Cross Ranch and the Elkhorn Ranch - yet did not own any land in what is now known as North Dakota. More...