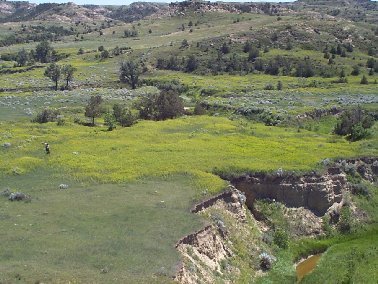 LEAFY SPURGE
(
Euphorbia esula
)
Leafy spurge was introduced to North Dakota in the early 1900s by Eastern European homesteaders who inadvertently carried the plant with them in seed grain and as ship ballast. In North Dakota, leafy spurge infests nearly 1 million acres. It costs North Dakota farmers and ranchers $27 million in direct impacts every year. Total economic impact to the state is estimated at $86 million. In addition to the monetary loss is the loss of valuable and essential grasslands that puts the future of native wildlife in jeopardy.
The leafy spurge infestation is estimated near 4,000 acres (about 10%) in the South Unit of the park. Heaviest concentrations are found along stream beds, drainages and wooded draws. For a first hand look at a leafy spurge infestation, hike along the Little Missouri River or any park trail. In June and July the abundance of yellow-green flowers is a clue that you are standing in the midst of a spurge patch. Leafy spurge is extremely competitive and capable of completely displacing native plants due to its extensive root system that can extend to a depth of 15 feet or more. The root system consists of both coarse and fine roots and contains numerous buds capable of producing new shoots. Older roots are woody and may be as large as one-half inch in diameter. They serve as a large nutrient reserve capable of sustaining the plant for years. Seeds can remain viable in the soil for up to 8 years.
Leafy spurge produces a milky latex that is poisonous to some animals. Thus, most wildlife, such as bison, elk and deer, do not eat it. For people who are sensitive to latex, leafy spurge can cause irritation, blotching, blisters, and swelling if handled.
Theodore Roosevelt National Park uses chemical and biological control methods to fight leafy spurge. Chemical control consists of ground and aerial herbicide applications. Biocontrol by using flea beetles is proving to be very effective and are considered one of the safest ways to control leafy spurge. Flea beetles are released onto plants. Their larvae, which feed on the roots, eventually kill the plants. Through exotic plant management efforts, landscapes are being transformed back into native grassland species.