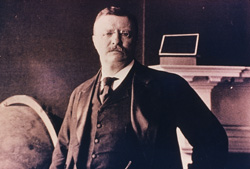 NPS
Making Waves in the East
1888
Theodore publishes Life of Gouverneur Morris, Ranch Life and the Hunting Trail, and Essays in Practical Politics.
TR briefly visits Dakota on a hunting trip.
1889
October 10th - Kermit Roosevelt (third child) is born at Sagamore Hill.
First two volumes of The Winning of the West are published; two more volumes of Theodore's four-volume history of the frontier would follow in 1894 and 1896.
May 7th - Theodore begins his position as U.S. Civil Service Commissioner in Washington, DC. He would stay in this position until May 5, 1895.
TR briefly visits Dakota on a hunting trip.
1890
September 2nd to 8th - TR, Edith, Corinne, Bamie and others visit the Elkhorn Ranch.
1891
Theodore publishes History of New York, a history of New York City.
August 13th - Birth of Theodore's daughter, Ethel Carow Roosevelt, at Sagamore Hill.
TR briefly visits Dakota on a hunting trip.
1892
TR goes on an inspection tour of Indian Reservations, and hunts at the Elkhorn.
1893
Publishes The Wilderness Hunter.
TR briefly visits Dakota on a hunting trip.
1894
April 10th - Son Archibald Bulloch Roosevelt, born in Washington, DC.
August 14th - Theodore's brother Elliott (father of Eleanor Roosevelt) dies.
TR comes back to Dakota for a hunting trip.
1895
Theodore publishes Hero Tales from American History, in collaboration with Henry Cabot Lodge.
May 5th - Theodore resigns U.S. Civil Service Commission to become Police Commissioner of NYC.
May 6th - He is elected President of the Board of Police Commissioners, NYC, and remained in this position until April 19th, 1897. He received national press attention for his reforms, including "midnight rambles" in search of policemen not at their posts. He ordered that all police officers must report for target practice, thus establishing the foundation of the Police Academy, one of the first in the country.
1896
TR goes on a hunting trip to his Elkhorn Ranch.
1897
Publishes American Ideals.
April 19th - Theodore is appointed Assistant Secretary of the Navy by President William McKinley.
November 19th - Son Quentin Roosevelt, born in Washington, DC.
1898
TR sells his remaining cattle interests in Dakota.
May 6th - A little more than one year later, TR resigns as Assistant Secretary of the Navy to become Lieutenant-Colonel of the 1st U.S. Volunteer Cavalry Regiment (the "Rough Riders").
May 15th - September 16 - Theodore serves with the Rough Riders during the Spanish-American War. TR is commissioned Lieutenant Colonel, but is later promoted to Colonel of the regiment before the Battle of San Juan Heights.
July 1st - The Battle of San Juan Heights. TR is later nominated for, but denied, the Congressional Medal of Honor. One hundred years later, TR is posthumously awarded the Medal of Honor.
August 14th - The Rough Riders land at Montauk, Long Island, to begin a six-week quarantine.
September 27th - TR is nominated by the Republican Party for Governor of New York State.
October 5th - Opening of campaign at Carnegie Music Hall. TR gave speech on "The Duties of a Great Nation."
November 8th - TR is elected Governor of New York State (662, 715 votes) with a plurality of 17, 786 votes. His opponent, Democrat Augustus Van Wyck, of Brooklyn (643, 921 votes).
December 31st - TR takes oath of Office as Governor of New York before Secretary of State, John Palmer. He is Governor until December 31st, 1900.
1899
Publishes The Rough Riders. First installment appears in Scribner's in January.
January 2nd - TR's inauguration as Governor takes place in the Assembly Chamber.
1900
TR makes a train stop in Medora, ND: "...here the romance of my life began."
November 6th - Oyster Bay. Elected Vice President. The McKinley-Roosevelt ticket received 7,219,530 votes to 6,358,071 for Democrats William Jennings Bryan and Adlai E. Stevenson.
December 31st - Oyster Bay. Evening in Albany for farewell dinner given by Timothy L Woodruff.
Theodore Roosevelt: President
1901
March 4th - September 14th - Vice President of the United States.
September 6th - President William McKinley is shot while attending the Pan American Exposition in Buffalo, NY. TR, on a hiking trip with his family, is summoned from Mount Tahawus in the Adirondacks to Buffalo.
September 14th - At age 42, Theodore Roosevelt becomes the 26th President of the United States and is sworn into office at about 3:15 p.m. at the Ansley Wilcox Mansion, 642 Delaware Avenue, Buffalo, NY. He is the youngest man ever to become President (John F. Kennedy was the youngest man ever to be elected to that office at the age of 43). TR is President until Mar. 4, 1909.
1902
February 19th, 1902 - TR orders antitrust suit under Sherman Act to dissolve Northern Securities Company in the first of 45 antitrust suits.
May 22nd - Crater Lake National Park in Oregon, is established.
June 17th - Newlands Reclamation Act signed, leading to the first 21 federal irrigation projects including Theodore Roosevelt Dam in Arizona.
June 28th - Isthmian Canal Act.
October 15th - TR settles Anthracite Coal Strike.
December 31st - Roosevelt settles the Venezuelan Affair.
1903
Wind Cave National Park is established.
February 14th - Department of Commerce and Labor is established.
February 19th - Elkins Anti-rebate Act for railroads signed.
March 14th - Proclaimed Pelican Island in Florida as the first federal bird reservation (total of 51 bird reservations established by Roosevelt administration).
March - Roosevelt settles the Alaskan Boundary dispute.
November 13th - Recognition of the Republic of Panama after Panama's secession from Colombia.
November 18th - Treaty signed with Panama for building of Panama Canal, which was completed in 1914.
December 17th - Reciprocity Treaty with Cuba.
TR makes a train stop in Medora, ND.
1904
TR is reelected President over Democrat Alton B. Parker.
Sully's Hill, North Dakota, is established.
1905
Published Outdoor Pastimes of an American Hunter.
February 1st - The National Forest Service is established.
March 4th - TR is inaugurated for his second term as President.
March 17th - Acting as stand-in for his deceased brother Elliott, he gave away his niece, Eleanor Roosevelt, at her wedding to her fifth cousin once removed, Franklin Delano Roosevelt, in New York City.
June 2nd - Wichita Forest, Oklahoma, made first federal game preserve.
September 5th - Portsmouth Treaty signed, ending Russo-Japanese War after mediation by TR.
1906
Platt National Park, Oklahoma, is established.
Mesa Verde National Park, Colorado, is established.
February 17th - Marriage of his daughter Alice to Ohio Congressman Nicholas Longworth in a magnificent White House ceremony.
June 8th - Antiquities Act signed, by which TR established the first 18 "National Monuments", including:
Devils Tower (1906)
Muir Woods (1908)
Grand Canyon (1908)
Mount Olympus (1909)
June 11th - Forest Homestead Act.
November 8th to 26th - President and Mrs. Roosevelt go to Panama to inspect building of the canal, the first time a President leaves the U.S. while in office.
December 10th - Theodore is awarded the Nobel Peace Prize for ending the Russo-Japanese War in 1905; he is the first American to win the Nobel Prize in any of the six categories. TR received award while in Europe in 1910.
1908
May 13th to 15th - First conference of Governors met at the White House to consider problems of conservation.
June 8th - TR appointed a National Conservation Commission to prepare first inventory of natural resources.
1909
February 18th - North American Conservation Conference convened at the White House.
March 4th - TR's administration ends with the inauguration of his successor, William Howard Taft. At the end of TR's presidency, he had set aside over 230,000,000 acres of land for conservation, including 150 national forests, 51 federal bird refuges, 18 national monuments, and 5 national parks.
March 1909 to June 1910 - TR leads hunting trip to Africa to gather specimens for the Smithsonian Institution with his son Kermit, then tours Europe.
Fire Island federal game preserve, Alaska, is established.
National Bison Range federal game preserve, Montana, is established.