Theodore Roosevelt Timeline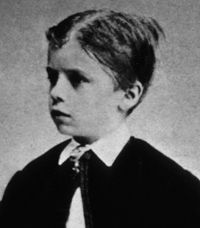 NPS
Childhood
1858
October 27th - Theodore Roosevelt was born at 28 East 20th Street, New York, NY to Theodore and Martha ("Mittie") Bulloch Roosevelt. He was the second child of four.
1860
Elliott Roosevelt is born.
1861
Corinne Roosevelt is born.
1869 –70
Theodore starts a stringent physical fitness regime that he keeps up for the rest of his life.
Charter for the American Museum of Natural History is approved.
May 12th - May 25, 1870 - At the age of 11, Theodore goes on a grand tour of Europe with his family.
1871
July 17th - Theodore's grandfather, Cornelius Van Schaack Roosevelt, dies.
1872-3
October - The Roosevelt family and friends set off for a second tour abroad, even bigger than their first, beginning with a winter on the Nile River. After Egypt, the family toured the Holy Land, then stopping at Vienna. At the age of 14, Theodore received a shotgun for his birthday. He hunted birds and larger game and collected specimens. In his letter to Edith Carow he described himself as very homesick.
May - Theodore and Elliott are left in Dresden to study German with a local family for a short time. Theodore's asthma troubled him throughout this time. On November 5th, the family returned home.
1874
Summer - Theodore and his family spend their time at Oyster Bay, "the happiest summers of our lives." Edith Carow joins the Roosevelt family in their summer festivities. During their first summer at Oyster Bay, Elliott begins to suffer from terrible headaches, seizures and fainting spells.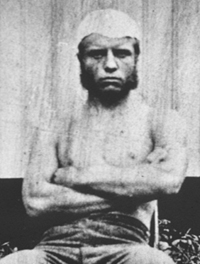 NPS
Harvard Years
1876-80
December - Theodore entered Harvard University as a freshman.
December 22nd - Grand opening of American Museum of Natural History. Theodore Roosevelt, Sr. was too ill to attend.
February 9th - Theodore Roosevelt, Sr. dies from stomach cancer at the family's new home at 6 West 57th Street, NYC.
October 18th - Theodore and Alice Hathaway Lee meet for the first time.
June 30th - Theodore graduates from Harvard, magna cum laude, member Phi Beta Kappa. During his senior year, he began working on his first book, The Naval War of 1812.
October - Theodore enters Columbia Law School; discontinues study of law in 1882 without taking a degree or becoming a lawyer.
October 27th - Theodore marries Alice Hathaway Lee of Chestnut Hill, MA on his 22nd birthday.
Theodore joins the Republican Party.
1881
November 8th - Theodore is elected to the New York State Assembly from New York City (the youngest man ever elected to the Assembly) by a margin of 3,490 votes to 1,989. He serves three one-year terms, 1882, 1883 and 1884. He becomes Minority Leader in 1883.
Theodore and Alice visit Europe.
1882
He publishes his first book, The Naval War of 1812. It set the standard for studies on naval strategy and was required reading at the Naval Academy in Annapolis for many years.
Theodore serves in New York State Assembly from 1882-1884.
April 29th - Corinne Roosevelt marries Douglas Robinson.
August 1st - Theodore joins the National Guard. Commissioned a Second Lieutenant in B Company of New York's Eight Regiment. He would be promoted to Captain the following year.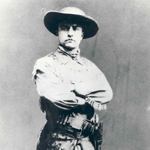 NPS
Dakota Territory
1883
Theodore is reelected by the widest margin of any legislator in New York (by a two-to-one majority); he becomes Minority Leader.
September 8th - Theodore arrives in the town of Little Missouri in Dakota Territory to hunt one of the few remaining bison in the area. He enlisted the services of Joe Ferris, a local ranchman, as his hunting guide. His hunting trip lasted for 10 days, after which he decided to buy into the cattle ranching business. He bought into the Maltese Cross Ranch (or Chimney Butte Ranch) for $14,000.00, and convinced partners Sylvane Ferris and Bill Merrifield to act as his ranch managers. He returns to New York and his new wife.
December 1st - Elliott Roosevelt marries Anna Hall of Hyde Park, NY.
1884
February 12th - Theodore and Alice's first child, Alice Lee Roosevelt, is born at their home on 57th Street, NYC.
February 14th - Double Tragedy: Theodore's mother Martha Bulloch Roosevelt dies of typhoid fever; hours later, in the same house on 57th street, Theodore's wife Alice Hathaway Lee Roosevelt also dies from Bright's disease - a chronic kidney infection which had been complicated by her pregnancy.
March - Theodore signs a contract with the firm of Joseph Wood & Sons of Lawrence, Long Island, to build a home in Oyster Bay at the insistence of his sister Bamie, who convinced him his daughter would need a home. He had originally planned the home with his wife Alice, and was planning to name it "Leeholm" in honor of her family name.
June - Delegate to the Republican National Convention.
June 9th - Theodore returns to Dakota Territory to seek solace from the personal tragedies in his life. He spends a short time at his Maltese Cross Ranch, but requires more privacy; TR establishes the Elkhorn Ranch 35 miles down river.
August to September - TR goes on a hunting trip to the Bighorn Mountains.
October - Directly after returning from his Bighorn hunting trip in MT, TR returned to New York to see his daughter and to take part in the Blain campaign, as he promised Lodge he would.
November - He returned to Dakota Territory, but left for New York again before Christmas.
December 19th - TR organizes the Little Missouri River Stockmen's Association.
1885
April - Probable date of the episode in Mingusvile (present day Wibaux, MT).
Mid April - TR returns to Dakota Territory and his Elkhorn Ranch and stays for 2 months. In mid May he headed south with his outfit to take part in his first roundup.
June - TR returns to New York, reported as being "rugged, bronze and in the prime of health" by the Pioneer Press, St. Paul, MN.
Sagamore Hill, TR's Oyster Bay, Long Island, NY home, is completed.
Theodore publishes his second book, Hunting Trips of a Ranchman.
TR becomes President of the Little Missouri Stockman's Association.
September - TR nearly enters into a duel with the Marquis de Mores.
TR secretly begins to court Edith Carow.
1886
March to April - TR, along with Bill Sewall and Wilmot Dow, capture the infamous boat thieves.
July 4th - TR gives his "I like big things" speech in Dickinson, ND
November - Theodore is defeated by Abram S. Hewitt as Republican candidate for mayor of New York City.
December - Theodore marries his childhood sweetheart, Edith Carow, in London. (She was born on August 6th, 1861, in Norwich, CT).
Winter of 1886-87 - the terrible winter - TR lost 60% of his cattle herd and suffered a $20,000.00 loss; overall, local ranchers lost 75% of their herds.
1887
TR publishes the Life of Thomas Hart Benton.
April - TR visits Dakota to survey his cattle losses.
Theodore and Edith took up residence at Sagamore Hill. (They eventually have five children: Theodore, 1887; Kermit, 1889; Ethel, 1891; Archibald, 1894; Quentin, 1897).
September 13th - Theodore's first son (second child), Theodore Roosevelt, Jr. is born at Sagamore Hill.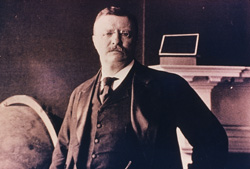 NPS
Making Waves in the East
1888
Theodore publishes Life of Gouverneur Morris, Ranch Life and the Hunting Trail, and Essays in Practical Politics.
TR briefly visits Dakota on a hunting trip.
1889
October 10th - Kermit Roosevelt (third child) is born at Sagamore Hill.
First two volumes of The Winning of the West are published; two more volumes of Theodore's four-volume history of the frontier would follow in 1894 and 1896.
May 7th - Theodore begins his position as U.S. Civil Service Commissioner in Washington, DC. He would stay in this position until May 5, 1895.
TR briefly visits Dakota on a hunting trip.
1890
September 2nd to 8th - TR, Edith, Corinne, Bamie and others visit the Elkhorn Ranch.
1891
Theodore publishes History of New York, a history of New York City.
August 13th - Birth of Theodore's daughter, Ethel Carow Roosevelt, at Sagamore Hill.
TR briefly visits Dakota on a hunting trip.
1892
TR goes on an inspection tour of Indian Reservations, and hunts at the Elkhorn.
1893
Publishes The Wilderness Hunter.
TR briefly visits Dakota on a hunting trip.
1894
April 10th - Son Archibald Bulloch Roosevelt, born in Washington, DC.
August 14th - Theodore's brother Elliott (father of Eleanor Roosevelt) dies.
TR comes back to Dakota for a hunting trip.
1895
Theodore publishes Hero Tales from American History, in collaboration with Henry Cabot Lodge.
May 5th - Theodore resigns U.S. Civil Service Commission to become Police Commissioner of NYC.
May 6th - He is elected President of the Board of Police Commissioners, NYC, and remained in this position until April 19th, 1897. He received national press attention for his reforms, including "midnight rambles" in search of policemen not at their posts. He ordered that all police officers must report for target practice, thus establishing the foundation of the Police Academy, one of the first in the country.
1896
TR goes on a hunting trip to his Elkhorn Ranch.
1897
Publishes American Ideals.
April 19th - Theodore is appointed Assistant Secretary of the Navy by President William McKinley.
November 19th - Son Quentin Roosevelt, born in Washington, DC.
1898
TR sells his remaining cattle interests in Dakota.
May 6th - A little more than one year later, TR resigns as Assistant Secretary of the Navy to become Lieutenant-Colonel of the 1st U.S. Volunteer Cavalry Regiment (the "Rough Riders").
May 15th - September 16 - Theodore serves with the Rough Riders during the Spanish-American War. TR is commissioned Lieutenant Colonel, but is later promoted to Colonel of the regiment before the Battle of San Juan Heights.
July 1st - The Battle of San Juan Heights. TR is later nominated for, but denied, the Congressional Medal of Honor. One hundred years later, TR is posthumously awarded the Medal of Honor.
August 14th - The Rough Riders land at Montauk, Long Island, to begin a six-week quarantine.
September 27th - TR is nominated by the Republican Party for Governor of New York State.
October 5th - Opening of campaign at Carnegie Music Hall. TR gave speech on "The Duties of a Great Nation."
November 8th - TR is elected Governor of New York State (662, 715 votes) with a plurality of 17, 786 votes. His opponent, Democrat Augustus Van Wyck, of Brooklyn (643, 921 votes).
December 31st - TR takes oath of Office as Governor of New York before Secretary of State, John Palmer. He is Governor until December 31st, 1900.
1899
Publishes The Rough Riders. First installment appears in Scribner's in January.
January 2nd - TR's inauguration as Governor takes place in the Assembly Chamber.
1900
TR makes a train stop in Medora, ND: "...here the romance of my life began."
November 6th - Oyster Bay. Elected Vice President. The McKinley-Roosevelt ticket received 7,219,530 votes to 6,358,071 for Democrats William Jennings Bryan and Adlai E. Stevenson.
December 31st - Oyster Bay. Evening in Albany for farewell dinner given by Timothy L Woodruff.
Theodore Roosevelt: President
1901
March 4th - September 14th - Vice President of the United States.
September 6th - President William McKinley is shot while attending the Pan American Exposition in Buffalo, NY. TR, on a hiking trip with his family, is summoned from Mount Tahawus in the Adirondacks to Buffalo.
September 14th - At age 42, Theodore Roosevelt becomes the 26th President of the United States and is sworn into office at about 3:15 p.m. at the Ansley Wilcox Mansion, 642 Delaware Avenue, Buffalo, NY. He is the youngest man ever to become President (John F. Kennedy was the youngest man ever to be elected to that office at the age of 43). TR is President until Mar. 4, 1909.
1902
February 19th, 1902 - TR orders antitrust suit under Sherman Act to dissolve Northern Securities Company in the first of 45 antitrust suits.
May 22nd - Crater Lake National Park in Oregon, is established.
June 17th - Newlands Reclamation Act signed, leading to the first 21 federal irrigation projects including Theodore Roosevelt Dam in Arizona.
June 28th - Isthmian Canal Act.
October 15th - TR settles Anthracite Coal Strike.
December 31st - Roosevelt settles the Venezuelan Affair.
1903
Wind Cave National Park is established.
February 14th - Department of Commerce and Labor is established.
February 19th - Elkins Anti-rebate Act for railroads signed.
March 14th - Proclaimed Pelican Island in Florida as the first federal bird reservation (total of 51 bird reservations established by Roosevelt administration).
March - Roosevelt settles the Alaskan Boundary dispute.
November 13th - Recognition of the Republic of Panama after Panama's secession from Colombia.
November 18th - Treaty signed with Panama for building of Panama Canal, which was completed in 1914.
December 17th - Reciprocity Treaty with Cuba.
TR makes a train stop in Medora, ND.
1904
TR is reelected President over Democrat Alton B. Parker.
Sully's Hill, North Dakota, is established.
1905
Published Outdoor Pastimes of an American Hunter.
February 1st - The National Forest Service is established.
March 4th - TR is inaugurated for his second term as President.
March 17th - Acting as stand-in for his deceased brother Elliott, he gave away his niece, Eleanor Roosevelt, at her wedding to her fifth cousin once removed, Franklin Delano Roosevelt, in New York City.
June 2nd - Wichita Forest, Oklahoma, made first federal game preserve.
September 5th - Portsmouth Treaty signed, ending Russo-Japanese War after mediation by TR.
1906
Platt National Park, Oklahoma, is established.
Mesa Verde National Park, Colorado, is established.
February 17th - Marriage of his daughter Alice to Ohio Congressman Nicholas Longworth in a magnificent White House ceremony.
June 8th - Antiquities Act signed, by which TR established the first 18 "National Monuments", including:
Devils Tower (1906)
Muir Woods (1908)
Grand Canyon (1908)
Mount Olympus (1909)
June 11th - Forest Homestead Act.
November 8th to 26th - President and Mrs. Roosevelt go to Panama to inspect building of the canal, the first time a President leaves the U.S. while in office.
December 10th - Theodore is awarded the Nobel Peace Prize for ending the Russo-Japanese War in 1905; he is the first American to win the Nobel Prize in any of the six categories. TR received award while in Europe in 1910.
1908
May 13th to 15th - First conference of Governors met at the White House to consider problems of conservation.
June 8th - TR appointed a National Conservation Commission to prepare first inventory of natural resources.
1909
February 18th - North American Conservation Conference convened at the White House.
March 4th - TR's administration ends with the inauguration of his successor, William Howard Taft. At the end of TR's presidency, he had set aside over 230,000,000 acres of land for conservation, including 150 national forests, 51 federal bird refuges, 18 national monuments, and 5 national parks.
March 1909 to June 1910 - TR leads hunting trip to Africa to gather specimens for the Smithsonian Institution with his son Kermit, then tours Europe.
Fire Island federal game preserve, Alaska, is established.
National Bison Range federal game preserve, Montana, is established.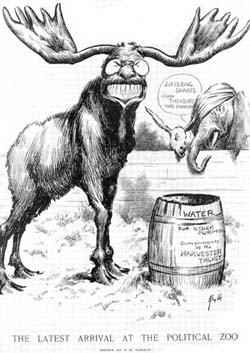 "My last chance to be a boy…"
1910
June 18th - TR returns to NY from his African Safari and European tour.
Publishes African Game Trails.
1911
TR makes a train stop in Medora, ND.
1912
TR passes through Medora by train without stopping.
February 21st - TR announces candidacy for Republican nomination against President Taft, declaring "my hat is in the ring."
Publishes Realizable Ideals.
June 18th to 22nd - Republican National Convention meets in Chicago and renominates incumbent Taft, even though TR has won all but one primary and caucus. Roosevelt supporters bolt, charging "theft" of nomination.
August 5th to 7th - Convention of the new National Progressive party (nicknamed the "Bull Moose" party) held in Chicago, adopts reform platform, and nominates TR for President and Governor Hiram W. Johnson of California for Vice President.
October 14th - TR is shot in the chest while entering an automobile outside the Hotel Gilpatrick in Milwaukee, WI, by would-be-assassin John Nepomuk Schrank. Campaigning on the "Bull Moose" ticket, TR delivers a 90-minute speech before seeking medical attention. The bullet would never be removed.
November 5th - Democrat Woodrow Wilson elected president over TR, who came in second, and Republican Taft. Roosevelt received the largest percentage of votes of any third party candidate.
1913
Theodore publishes Theodore Roosevelt - An Autobiography and History as Literature and Other Essays.
October 4th - TR sails for South America for lecture tour and jungle expedition.
1914
February 27th to April 27th - Roosevelt-Rondon Expedition, sponsored by the American Museum of Natural History and the Brazilian government, explores Brazil's "River of Doubt", now named "Rio Roosevelt" or "Rio Teodoro." Kermit again accompanied his father. Theodore Roosevelt nearly dies on the trip.
Publishes Through the Brazilian Wilderness and, in collaboration with Edmund Heller, Life Histories of African Game Animals.
1915
January 1st - Publishes America and the World War.
1916
Publishes A Booklover's Holidays in the Open and Fear God and Take Your Own Part.
June 7th to 10th - Republican and Progressive national conventions meet in Chicago, at the same time, in different halls, in an effort at a joint nomination. On June 10th, the Progressives nominate Theodore Roosevelt; republicans nominate Charles Evans Hughs; TR declines Progressive nomination and eventually backs Hughes.
1917
February - Roosevelt requests permission of President Wilson to raise, equip, and lead volunteer division for service in France in World War I.
May 19th - President Wilson refuses Roosevelt's request.
TR's family supports the War effort. All four of his sons enlist. His daughter Ethel serves as a Red Cross nurse at the American Ambulance Hospital in Paris, accompanying her husband, surgeon Dr. Richard Derby.
Publishes Foes of Our Own Household.
1918
July 14th - Quentin Roosevelt, TR's youngest son, killed while serving as a fighter pilot in France.
July - Roosevelt refuses Republican nomination for Governor of New York.
Publishes The Great Adventure.
TR makes a train stop in Medora, ND.
1919
January 6th - Theodore Roosevelt dies in his sleep at Sagamore Hill of a coronary embolism (arterial blood clot) at age 60.
View a chronology of TR's ND visits