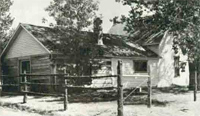 NPS
The Olsen ranch was unique for its time in that there were more horses than cattle and, in 1918, the Olsens started one of the first "dude ranches." They took vacationers on horseback riding trips to scenic places in the area, such as the petrified forest, and day trips to other ranches. Other entertainment for guests included camping among the cottonwood trees adjacent to the ranch house, cookouts, branding, round-ups, and moonlight rides. A popular destination was the Neuen ranch for Mrs. Neuen's good cooking.
Guest facilities, including a cabin, were developed in 1920. In 1922, the ranch formally became known as the Peaceful Valley Ranch. Two years later, Carl Olsen became the sole owner of the property.
In the 1920s and 1930s, Carl Olsen was involved in the movement to create a national park in the badlands, including the land occupied by the Peaceful Valley Ranch. In 1925 and again in 1928, Olsen's ranch was a major stop during grand promotional tours of the area for politicians and NPS representatives including Stephen Mather. At that time, the ranch property was not selected for inclusion as a national park.
Olsen ran the dude ranch at Peaceful Valley until he sold it to the federal government in 1936. The ranch house was then used as the headquarters of the Roosevelt Recreation Demonstration Area. Between 1934 and 1939, the Peaceful Valley Ranch site also housed Civilian Conservation Corps (CCC), Works Progress Administration (WPA), and Emergency Relief Administration (ERA) staff. When Theodore Roosevelt National Memorial Park was established in 1947, the Peaceful Valley Ranch site was used as the park headquarters until the present Administration Building and visitor center were built in Medora in 1959. The building continued to house park staff until 1965.