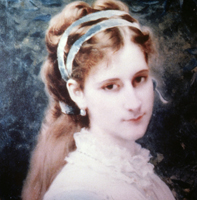 NPS
Disagreements with Theodore Roosevelt
The Marquis de Morès and Theodore Roosevelt were two men with extraordinarily large personalities, and, although relations between them were generally cordial, they occasionally clashed. Twice, they had disagreements over land rights, and once Roosevelt backed out of the sale of some of his cattle when the Marquis lowered the price per pound from the agreed upon 6¢ to 5.5¢. While the Marquis was in jail during his trial for the killing of Riley Luffsey (he was later acquitted), he shot a letter to Roosevelt on September 3, 1885 that expressed concern that Roosevelt's employee and friend Joe Ferris had been "very active against me and has been instrumental in getting me indicted," and asked "Is this done by your order?" The letter closed with the threat, "If you are my enemy I want to know it...between gentlemen it is easy to settle matters of that sort directly."
Roosevelt, in fact, had not acted against the Marquis, but if he could not convince the Marquis of his innocence, the disagreement might very well have been settled in a duel, implied by the word "directly," in the Marquis's letter. Privately, Bill Sewall offered to be Roosevelt's second in the duel TR wanted to avoid. Carefully, TR wrote back to the Marquis, "Most emphatically I am not your enemy; if I were you would know it, for I would be an open one, and would not have asked you to my house nor gone to yours." TR closed that he was "ever ready to hold myself accountable for anything I have said or done." TR's tactful response cooled tensions between the two giants of Medora. The Marquis backed out of any direct confrontation with Roosevelt.